If an outside shower or
tub is done right, they can be breathtaking. Below are some of my favorites.
This picture from www.home-designing.com proves that the outside surroundings
play a big role in the look and feel.
This looks like a little part of paradise.

I found this next picture on www.nationalbuildersupply.com. This shower takes the outside shower look and feel to the next level.
UPDATE: I've gotten MANY requests as to where this snail showerhead can be purchased, and after much digging, it looks like it was custom made for the resort: Bali Hai. Details about the resort can be found here. Since it was a custom made shower head, finding one yourself may not be a easy task, but reaching out to Bali Hai might be a good start!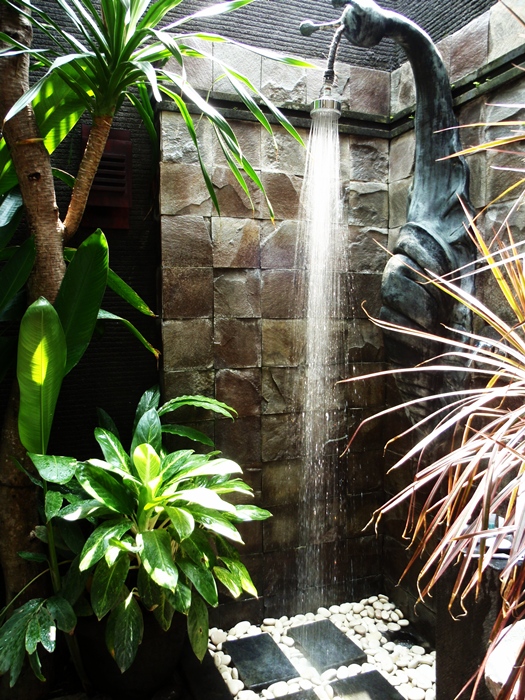 This shower takes classy outside. For more look here: maricamckeel.com
Massage anyone? See more similar pics at www.designrulz.com
This shower from smiledreamlove.com adds luxury to outdoor showers
Just one more great shower! Look here: www.hgtv.ca
This shower from cabinology.tumblr.com is a great option for any home looking for an outside shower.
What a great outdoor shower from homedesignboard.com!
Here are some additional showers and tubs from www.houzz.com
This shower from futureandfound.com gives a futuristic look and feel to outdoor showers.
This shower found at avihu.net makes you feel like you just walked off a paradise. I love it!
While setting up an outside shower like this one found at theinspirednester.com might be quite the undertaking, the finished product is totally worth it!
This picture comes from eagle island camp, and can be found at www.appointmentgroup.com. Looks like a great place to visit!
This tub has an outside and inside feel. What a great look and feel from www.dreamscape.ae
Also from www.dreamscape.ae, this tub allows you to enjoy the outdoors in style.
Clearly a tropical shower from www.nevaramk.com It looks like a gateway into a different world.
This shower from abcnews.go.com is an amazing example a great outdoor shower.
This shower may be basic, but it's a great outdoor shower option from indulgy.com
Saving the best for last, this AMAZING tub and others can be found at www.lifebuzz.com
What's your dream outside bathroom, shower or tub?