Hybrid water heating bidets tend to be pricier than tank heater bidets but less expensive than instant heater models. They offer more warm water than a tank heater, but they usually don't provide unlimited warm water like an instant heater does. The main exception to this rule is the Bio Bidet BB-2000, which has an extra powerful hybrid heater that's able to produce unlimited warm water. The BB-2000 aside, most hybrid units provide 60-90 seconds of warm water, compared to the 30-60 seconds of warm water offered by a tank heater.
So exactly how does a hybrid heater work? Hybrid heating systems have a small tank heater, plus a low powered instant water heater. This means that there is warm water from the start, thanks to the warm water waiting in the tank. As the tank empties, the instant heater kicks on to prolong the warm water. Because the instant heater on a hybrid system isn't particularly powerful, it can't keep up with the seat's water flow rate. As a result, the water gradually cools off as the wash continues.
Since the warm water reservoir on a hybrid heater is smaller than the reservoir on a tank heater, hybrid units usually have a roomier, more comfortable seat.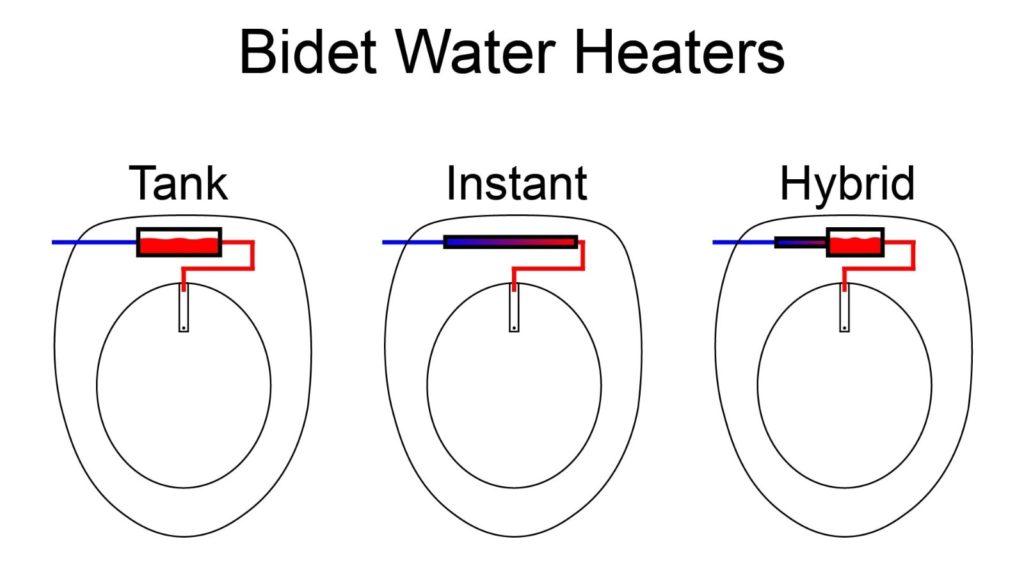 TOTO

Rated 0 out of 5

$

1,753.50 –

$

1,957.80

Bio Bidet

Rated 4.85 out of 5

$

699.00 –

$

798.00

30 day risk free trial
Free Shipping to USA and Canada
Shipping locations in USA and Canada - No border fees

Your Purchase includes>

30 day risk free trial
3 year warranty
All parts needed for install on a standard toilet
FREE Shipping to Continental USA & Canada
Delivers in 2-7 Business Days
 Easy 30 Day Returns & Exchanges 

Rated 5.00 out of 5

$

469.00

OPEN BOX UNITS CAN NOT BE RETURNED FOR ANY REASON.

To purchase this seat with a risk free trial, you will want to purchase a new BB-2000 bidet seat here

Bio Bidet

Rated 4.8 out of 5

$

649.00 –

$

748.00

BIO BIDET WAREHOUSE EXPERIENCING ISSUES We are following up with Bio Bidet's warehouse on a daily basis regarding our customers' orders. Despite this most Bio Bidet orders are taking a week (or slightly longer) to leave Bio Bidet's warehouse due to Bio Bidet's current shipping and workflow issues. USE COUPON CODE

25SALE

AT CHECKOUT FOR 25% OFF

Your Purchase includes>

3 year warranty
All parts needed for install on a standard toilet
FREE Shipping to Continental USA & Canada
Delivers in 2-7 Business Days
Exclusive Easy 60 Day Returns & Exchanges

Galaxy

Rated 5 out of 5

$

499.00

Bio Bidet

Rated 5 out of 5

$

349.00

BIO BIDET WAREHOUSE EXPERIENCING ISSUES

We are following up with Bio Bidet's warehouse on a daily basis regarding our customers' orders. Despite this most Bio Bidet orders are taking a week (or slightly longer) to leave Bio Bidet's warehouse due to Bio Bidet's current shipping and workflow issues.

Is this the best bidet for you? Find out by taking our short quiz!

Rated 0 out of 5

OPEN BOX UNITS CAN NOT BE RETURNED FOR ANY REASON.

If you'd like the ability to return this if unused, you'll want to purchase a new A7 Bidet Seat here

Brondell Inc.

Rated 0 out of 5

$

249.99

Brondell Inc.

Rated 0 out of 5

$

349.99

Brondell Inc.

Rated 0 out of 5

$

449.99

Brondell Inc.

Rated 0 out of 5

$

399.99

Brondell Inc.

Rated 0 out of 5

$

499.99

Brondell Inc.

Rated 0 out of 5

$

299.99

Nova

Rated 0 out of 5

Bio Bidet

Rated 5 out of 5

$

599.00

BIO BIDET WAREHOUSE EXPERIENCING ISSUES

We are following up with Bio Bidet's warehouse on a daily basis regarding our customers' orders. Despite this most Bio Bidet orders are taking a week (or slightly longer) to leave Bio Bidet's warehouse due to Bio Bidet's current shipping and workflow issues.

Is this the best bidet for you? Find out by taking our short quiz!

Kohler Novita, Novita

Rated 0 out of 5

$

499.00