Because the water used for these seats is heated in real time, they are able to offer an unlimited amount of warm water for as long as you need it. This is not the only advantage you'll gain when purchasing a bidet seat with an instant water heater. Because instant water heaters used by bidet seats heat this water in real time, there's no need to store warm water like you'd see with a bidet seat tank water heating system. This makes tankless bidet seat water heating systems more efficient and better on your power bill.
Those worried about the bulky nature of bidet seats will find that since bidet seats with tankless water heaters don't need to find room for a tank used in bidet seats with tank water heaters, they also tend to be less bulky, and more sleek. While instant water bidet seats are more expensive than those with tank water heaters, many people find that the benefits gained by going with a tankless water heater setup on their bidet seat is worth the extra cash.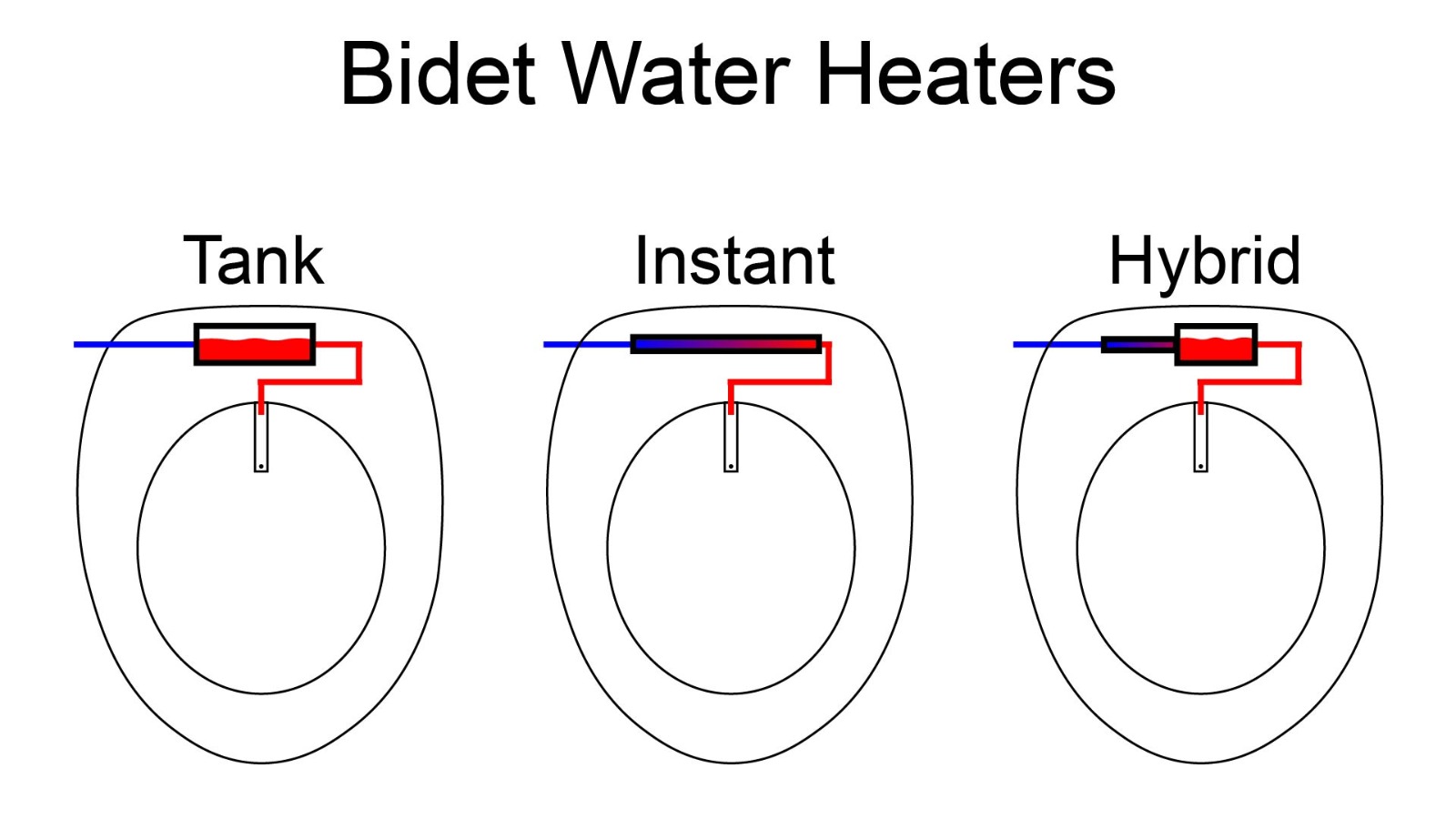 Frequently Asked Questions about bidet seats with instant water heaters:
Q: How much power does a bidet seat that uses an instant water heater take?
A: Because instant water heating systems used by bidet seats heat the water in real time, they need to be powerful enough to keep up with the wash. Due to this, while they are in use, the pull on the line can be rather high. Tankless water heating systems cause higher end bidet seats to have a pull between 13 amps and 14 amps. While it's not a bad idea to have any bidet seat on a 20 amp dedicated line, when it comes to one that's using an instant water heater, a dedicated line is highly recommended.
Q: Do bidet seats that offer unlimited warm water break down more than those that offer a tank water heating system?
A: We find that bidet seats with unlimited warm water tend to last just as long if not longer than those that use a tank water heating system. This tends to be the case due to the higher quality build found in higher end seats, and the fact that higher end seats tend to offer the tankless water heating systems.
Q: How do I get the most life out of the instant water heater in my bidet seat?
A: Tankless water heaters can be susceptible to buildup. In most homes, this buildup can take many years to become a problem. Long enough that most of the time the seat starts having other issues before the heater goes. That being said, if you have hard water, this buildup can become an issue as it can happen at a quicker pace. In situations where you see this possibly being a problem, we recommend using in line water filters to help reduce the buildup that would otherwise take place. In situations where hard water can be a problem, using an inline water filter can also help increase how long other compenents of the seat last. These filters should be replaced every 6 months.
Showing 1–36 of 37 results
AXENT Switzerland

Rated 0 out of 5

$

321.00

Cascade, Dignity Solutions

Rated 4.90 out of 5

$

899.00

Nova

Rated 4.33 out of 5

$

699.00

Studio Lux

Rated 0 out of 5

$

2,846.25

Studio Lux

Rated 0 out of 5

$

3,746.25

Brondell Inc.

Rated 4.80 out of 5

$

649.00 –

$

798.00

Rated 0 out of 5

$

459.00

OPEN BOX UNITS CAN NOT BE RETURNED FOR ANY REASON. To purchase this seat with a risk free trial, you will want to purchase a new Swash 1400 bidet seat here

TOTO

Rated 0 out of 5

$

1,180.20 –

$

1,358.00

Your Purchase includes-->

1 year warranty
FREE Shipping to Continental USA & Canada
Delivers in 2-7 Business Days

TOTO

Rated 5.00 out of 5

$

1,180.20 –

$

1,358.00

Your Purchase includes-->

1 year warranty
FREE Shipping to Continental USA
Delivers in 2-7 Business Days

TOTO

Rated 5 out of 5

$

1,295.70 –

$

1,490.30

Your Purchase includes-->

1 year warranty
FREE Shipping to Continental USA
Delivers in 2-7 Business Days

TOTO

Rated 4.80 out of 5

$

1,295.70 –

$

1,490.30

Out of stock till Mid July - Orders purchased before then will ship when seats come back in.  Recommended Alternatives for quicker delivery:

S550e in CLASSIC TRIM S500e in CONTEMPORARY TRIM

<!--

Your Purchase includes-->

1 year warranty
FREE Shipping to Continental USA
Delivers in 2-7 Business Days

-->

Sale!

New

Bio Bidet

Rated 0 out of 5

$

899.00

Your Purchase includes>

30 day risk free trial
5 year full warranty
All parts needed for install on a standard toilet
FREE Shipping to Continental USA & Canada
Delivers in 2-7 Business Days

Kohler Novita, Novita

Rated 4.75 out of 5

$

649.00

Kohler Novita, Novita

Rated 0 out of 5

$

998.00

TOTO

Rated 0 out of 5

$

815.50 –

$

938.00

SmartBidet

Rated 0 out of 5

$

649.00

Is this the best bidet for you? Find out by taking our short quiz!

Your Purchase includes>

Manufacturer warranty
All parts needed for install on a standard toilet
FREE Shipping to Continental USA & Canada
Delivers in 2-7 Business Days

Blooming

Rated 0 out of 5

$

599.00

Is this the best bidet for you? Find out by taking our short quiz!

Your Purchase includes>

1 year warranty
All parts needed for install on a standard toilet
FREE Shipping to Continental USA & Canada
Delivers in 2-7 Business Days

AXENT Switzerland

Rated 0 out of 5

$

4,575.00

AXENT Switzerland

Rated 0 out of 5

$

3,975.00

AXENT Switzerland

Rated 0 out of 5

$

1,049.25

TOTO

Rated 5 out of 5

$

1,113.00 –

$

1,280.30

TOTO

Rated 5 out of 5

$

1,103.20 –

$

1,269.10

Your Purchase includes>

1 year warranty
All parts needed for install on a standard toilet
FREE Shipping to Continental USA & Canada
Delivers in 2-7 Business Days

Clean Sense

Rated 5 out of 5

$

400.00

Blooming

Rated 4.82 out of 5

$

599.00

Infinity

Rated 0 out of 5

$

449.00

Brondell Inc.

Rated 3 out of 5

$

399.00

Brondell Inc.

Rated 5.00 out of 5

$

599.00 –

$

798.00

Novita

Rated 5 out of 5

$

379.00

Bio Bidet

Rated 4.642857142857143 out of 5

$

699.00 –

$

798.00

BIO BIDET WAREHOUSE EXPERIENCING ISSUES

We are following up with Bio Bidet's warehouse on a daily basis regarding our customers' orders. Despite this most Bio Bidet orders are taking a week (or slightly longer) to leave Bio Bidet's warehouse due to Bio Bidet's current shipping and workflow issues.

Your Purchase includes>

3 year warranty
All parts needed for install on a standard toilet
FREE Shipping to Continental USA & Canada
Delivers in 2-7 Business Days
Exclusive Easy 60 Day Returns & Exchanges

Rated 0 out of 5

$

524.00

OPEN BOX UNITS CAN NOT BE RETURNED FOR ANY REASON.

If you'd like the ability to return this if unused, you'll want to purchase a new DIB-850 Bidet Seat here

Galaxy

Rated 0 out of 5

$

449.00

Infinity

Rated 0 out of 5

$

399.00

Blooming

Rated 5 out of 5

$

549.99

Clean Sense

Rated 0 out of 5

$

399.00

Bio Bidet

Rated 5 out of 5

$

2,299.00

TOTO

Rated 4.666666666666667 out of 5

$

2,900.00