The main concern we hear from people choosing a bidet remote option is the fear of losing the remote, or dropping it. All bidet seats we sell with a wireless remote control also come with a wall mount that allows the remote to be held in place without being dropped or lost.  Many bidet seat owners find that guests do not even realize that the remote comes out of the wall mount unless told that the remote comes off the wall.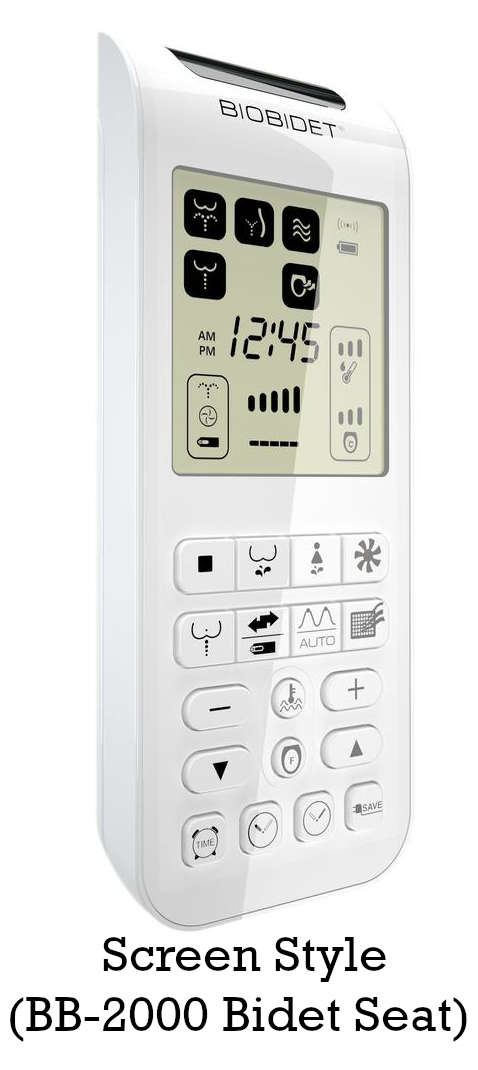 There are many benefits to having a wall mounted remote. First, ease of access.  Operating a control that's mounted next to you at, or near eye level is much simpler than operating a bidet seat from a side control where you have to look to the side and twist to see the options selected.  If you're dealing with mobility or back problems, where twisting is an issue, a remote controlled bidet seat is the way to go. As far as styles of bidet seat remote controls are concerned, they come in many different styles.  Some of these remotes have screens, others are more of a panel style.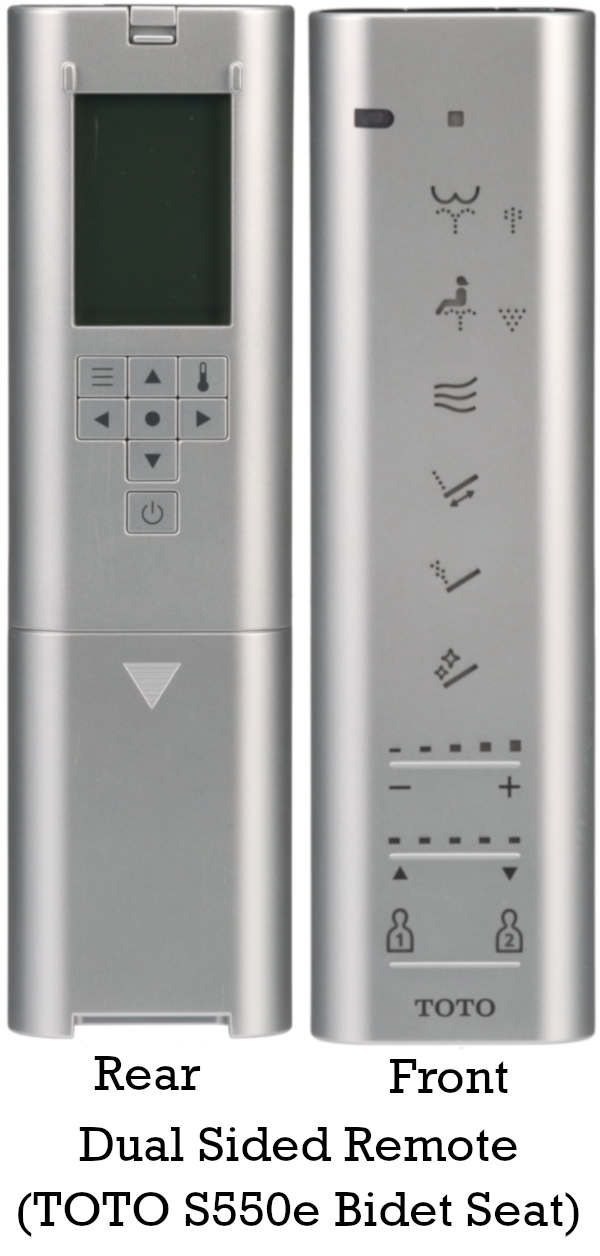 Some remotes are single sided, others are dual sided.  While remote controlled bidet seats are the preferred control method by many, the type of remote control you choose will depend on many different elements. Bidet remotes with screens tend to also have smaller buttons, but the screen is nice to have as it provides feedback on the options selected.  That being said, many of the bidet seat remotes that do not have screens have LED lights that indicate which options are selected as well.
The other remote specific aspect to think about is dual sided remotes.  There are positives and negatives to this style of bidet remote as well.  The positive to a dual sided bidet remote is the fact that while advanced features can be configured, when a guest is using the bidet seat, he or she only sees the basic features unless they flip the remote over, which they are unlikely to do, or even know to do.  This makes it more likely that guests will use the bidet when having never tried one before.  The dual sided remote design also has it's drawbacks.  Those worried about dropping or losing the remote will not appreciate dual sided remotes as they would have to take the remote out of the wall mount to use the buttons on the back side of the remote.
Panel style remotes for bidet seats are the last type of controls we need to address.  These remotes are large and easy to use, and often have LED lights that make it easy to see what's being selected. With the style of these remotes, when mounted to the wall, they feel like a control panel more than a remote.  These are the most likely remotes to look like a permanent wall fixture.  From everything we've talked about above, it's easy to see why remote control bidet seats are the preferred controller method.  We do from time to time run into issues with the remotes responding to the seat.  If you're in a small bathroom, you might consider a bidet seat with two IR receivers to this is not an issue.  A great example of a seat that does not have issues in small bathrooms would be the Cascade 3000 Bidet Seat. This seat has two IR receivers built into it.  This setup allows the remote to operate quickly and without fail even in the smallest of bathrooms.
Types of bidet seat remote controls:
Bidet seat with panel style remote control

Larger buttons
LED indicator lights

Bidet seat with screen style remote control

Buttons are smaller
Screen shows what options are being selected

Bidet seat with dual sided remote control

Simple options on the front
Complex options on the back
Easy for guests, but a pain if you want to make adjustments
Problems with bidet seats with remotes:
Connectivity issues in small bathrooms (check out the Cascade 3000 for a remote control bidet seat that does not have this issue)
More expensive than side control units
Why get a bidet seat with remote?
Bidet seats with remote controls are more convenient to use
Wireless bidet seat remotes come in a variety of styles to fit anyone's need
Top selling bidet seat with remote:
Cascade 3000 Bidet Seat: https://www.manybidets.com/product/cascade-bidet-3000/
Showing 1–36 of 55 results
Cascade, Dignity Solutions

Rated 4.90 out of 5

$

899.00

Nova

Rated 4.33 out of 5

$

699.00

Studio Lux

Rated 0 out of 5

$

3,746.25

Brondell Inc.

Rated 4.80 out of 5

$

649.00 –

$

798.00

Rated 0 out of 5

$

459.00

OPEN BOX UNITS CAN NOT BE RETURNED FOR ANY REASON. To purchase this seat with a risk free trial, you will want to purchase a new Swash 1400 bidet seat here

TOTO

Rated 0 out of 5

$

1,180.20 –

$

1,358.00

Your Purchase includes-->

1 year warranty
FREE Shipping to Continental USA & Canada
Delivers in 2-7 Business Days

Bio Bidet

Rated 4.85 out of 5

$

699.00 –

$

798.00

30 day risk free trial
Free Shipping to USA and Canada
Shipping locations in USA and Canada - No border fees

Your Purchase includes>

30 day risk free trial
3 year warranty
All parts needed for install on a standard toilet
FREE Shipping to Continental USA & Canada
Delivers in 2-7 Business Days
 Easy 30 Day Returns & Exchanges 

Rated 5.00 out of 5

$

469.00

OPEN BOX UNITS CAN NOT BE RETURNED FOR ANY REASON.

To purchase this seat with a risk free trial, you will want to purchase a new BB-2000 bidet seat here

TOTO

Rated 5.00 out of 5

$

1,180.20 –

$

1,358.00

Your Purchase includes-->

1 year warranty
FREE Shipping to Continental USA
Delivers in 2-7 Business Days

TOTO

Rated 5 out of 5

$

1,295.70 –

$

1,490.30

Your Purchase includes-->

1 year warranty
FREE Shipping to Continental USA
Delivers in 2-7 Business Days

TOTO

Rated 4.92 out of 5

$

1,295.70 –

$

1,490.30

Your Purchase includes-->

1 year warranty
FREE Shipping to Continental USA
Delivers in 2-7 Business Days

Bio Bidet

Rated 0 out of 5

$

899.00

Your Purchase includes>

30 day risk free trial
5 year full warranty
All parts needed for install on a standard toilet
FREE Shipping to Continental USA & Canada
Delivers in 2-7 Business Days

Bio Bidet

Rated 4.93 out of 5

$

499.00 –

$

598.00

Rated 0 out of 5

$

384.00

OPEN BOX UNITS CAN NOT BE RETURNED FOR ANY REASON.

If you'd like the ability to return this if unused, you'll want to purchase a new BB-1000 bidet seat here

Galaxy

Rated 5 out of 5

$

499.00

Kohler Novita, Novita

Rated 4.75 out of 5

$

649.00

SmartBidet

Rated 0 out of 5

$

299.00

SmartBidet

Rated 0 out of 5

$

299.99

SmartBidet

Rated 0 out of 5

$

299.99

American Standard

Rated 0 out of 5

$

559.00

Brondell Inc.

Rated 0 out of 5

$

399.00

TOTO

Rated 0 out of 5

$

359.80

TOTO

Rated 0 out of 5

$

815.50 –

$

938.00

SmartBidet

Rated 0 out of 5

$

649.00

Is this the best bidet for you? Find out by taking our short quiz!

Your Purchase includes>

Manufacturer warranty
All parts needed for install on a standard toilet
FREE Shipping to Continental USA & Canada
Delivers in 2-7 Business Days

Blooming

Rated 0 out of 5

$

599.00

Is this the best bidet for you? Find out by taking our short quiz!

Your Purchase includes>

1 year warranty
All parts needed for install on a standard toilet
FREE Shipping to Continental USA & Canada
Delivers in 2-7 Business Days

AXENT Switzerland

Rated 0 out of 5

$

4,575.00

TOTO

Rated 0 out of 5

$

546.00 –

$

627.90

AXENT Switzerland

Rated 0 out of 5

$

3,975.00

AXENT Switzerland

Rated 0 out of 5

$

1,049.25

Brondell Inc.

Rated 0 out of 5

$

399.99

Brondell Inc.

Rated 0 out of 5

$

499.99

Brondell Inc.

Rated 0 out of 5

$

299.99

TOTO

Rated 5 out of 5

$

1,113.00 –

$

1,280.30

TOTO

Rated 5 out of 5

$

1,103.20 –

$

1,269.10

Your Purchase includes>

1 year warranty
All parts needed for install on a standard toilet
FREE Shipping to Continental USA & Canada
Delivers in 2-7 Business Days

Feel Fresh

Rated 0 out of 5

$

399.00

Bio Bidet

Rated 5 out of 5

$

499.00

BIO BIDET WAREHOUSE EXPERIENCING ISSUES

We are following up with Bio Bidet's warehouse on a daily basis regarding our customers' orders. Despite this most Bio Bidet orders are taking a week (or slightly longer) to leave Bio Bidet's warehouse due to Bio Bidet's current shipping and workflow issues.

USPA 6800 has been discontinued. This is not the same unit as the USPA 6800U or USPA U6800 which is a Costco Exclusive. We recommend the

BB-1000

as a replacement to the USPA 6800