In stock
TOTO Aquia IV WASHLET+ S550e One-Piece Toilet, Universal Height – 1.28 GPF and 0.8 GPF
$1,800.40
Freight Item
Ships To Continental USA Only
Your Purchase includes–>
1 year warranty
All parts needed for install (less wax ring)
FREE Shipping to Continental USA
Delivers in 2-7 Business Days
SKU:

MW6463056CEMFG
Categories: Auto Flushing Washlet+ Systems, Auto Flushing Washlet+ Systems, Browse Bidet Seats Warranty, Browse by Bidet Seat Color, Browse by Bidet Seat Control Options, Browse By Bidet Seat Water Heating System, Dual Flush Washlet+ Systems, Non-Auto Flushing Washlet+ Systems, One-Piece Washlet+ Systems, Washlet+ Systems with a 10" Rough-In, Washlet+ Systems with a 12" Rough-In, Washlet+ Systems with a 14" Rough-In, Washlet+ Systems with an Instant Water Heater, Washlet+ Systems with Auto Open Seat/Lid, Washlet+ Systems with LED Nightight, Washlet+ Systems with S550e Washlets, Washlet+ Systems with Skirted Design, Washlet+ Systems with User Presets, Washlet+ Systems with Water Sterilization, Washlet+ Systems with Wireless Remotes, Bidet Style
Returns Policy
(The below applies to all items except for integrated units)
You may return most new, unopened items within 30 days of delivery for a full refund. If the return is a result of our error (you received an incorrect or defective item), we will make sure you get the correct item/non-defective item without any cost to you.  In a situation where the return is due to the buyer's error, or the buyer simply no longer wants the product, the buyer will be responsible for the shipping cost. You should expect to receive your refund within four weeks of giving your package to the return shipper, however, in many cases you will receive a refund more quickly. This time period includes the transit time for us to receive your return from the shipper (5 to 10 business days), the time it takes us to process your return once we receive it (3 to 5 business days), and the time it takes your bank to process our refund request (5 to 10 business days). If you need to return an item, simply reach out via email (support@manybidets.com), online chat, or call us at 248-974-4030 If you requested expedited shipping, when you placed your order, see Note at bottom of this page
Returns Policy for integrated units:
Due to the cost in the transporting this product, Bio Bidet and/or TOTO will NOT accept any returns of integrated units due to the unit being an incorrect size, measurement, shape, incompatible with the customers installation setup or the customer simply changing their mind. For issues of a unit arriving damaged or missing parts, due to the large dimension and weight, a white glove curbside service will be used for delivery. The same method of shipping must be used for returns of damaged or missing parts to avoid further damages during transit. : Claims for damaged and/or missing items must be received within 5 days of delivery. Please inspect your order on arrival.  If there is any shipping damage, do not sign for the package. Instead, please reply to this email with pictures of the damage, or text pictures of the damage to 248-974-4030, and reject delivery.  Be sure to reference either your full name as it appears on the order or your order number. If the shipper will not allow you to check the package, have them make a note that further inspection is required, and make sure they sign it. Once they leave, check the shipment immediately.
Risk Free Trials
Many Bidet's risk free trial program is an extension of our returns policy.  Unlike our return policy which requires the unit to be unused, bidet seats that we offer risk free trials for can be used, and returned used for a full refund within 30 days (period starts from the date ordered), less return shipping costs.  While we are unable to re-sell these used units, it's worth it to us to offer risk free trials on these units as the return rates on them are very low. Note: Only one risk free trial per household/customer. 
Seats that offer risk free trials
If you requested expedited shipping, when you placed your order, see Note at bottom of this page
Shipping
We can ship to the US and Canada.  We can ship some of our products to other countries as well.  Please contact us for details. We offer free shipping on all our products.  Free shipping only applies to the USA and Canada.  Just one more way we save you money!  Bidets are shipped same day if ordered before 1PM EST.  Bio Bidet and Brondell bidet seats are generally delivered in 3 business days or less anywhere in the Continental United States. Many Bidets does not guarantee 3 day delivery of these seats, but it is very rare to see them take longer.  Seats other than Bio Bidet and Brondell still tend to be delivered within 5 business days anywhere in the Continental US.
Warranty
Many Bidets offer the following warranties:
Manufacturer Warranty:
These warranties are offered by the manufacturer themselves, and can vary from limited warranty to full warranty. These warranties are almost always valid for bidet seat purchases, even if a personalized best price offer has been given.
Manufacturer Extended Warranty
Extended warranties from the manufacturer are offered for an additional fee. These extended warranties tend to be full warranties that cover 100% of parts and labor. However, they do need to be purchased with the seat. By default, bidet seats not purchased through the site (personalized best price quotes) will not qualify for these extended manufacturer warranties. Personalized best price quotes can be designed to include these additional warranties, but must be requested by the purchaser.
NOTE: All warranties only valid to original purchaser
NOTE: If you requested expedited shipping, shipping charges will not be refunded on returned orders or risk free trials.
Description
Aquia IV WASHLET+ S550e One-Piece Toilet, Universal Height – 1.28 GPF and 0.8 GPF
TOTO's Aquia IV S550e WASHLET+ One-Piece Toilet and Bidet System with dual flushing (1.28 and 0.8 GPF) beautifully combines efficiency, comfort, style and accessibility. The toilet and bidet seat components are specially designed for one another so that the seat's water hose and power cord are hidden from view for a sleek overall look. Please note, however, that only the toilet and WASHLET included in this WASHLET+ system will fit together in such a way that the cords and connections are kept out of sight.
The Aquia IV toilet itself features TOTO's DynaMax Tornado Flush system, which powerfully sweeps through even the hardest to reach areas of the bowl, along with two flush options (1.28 GPF or 0.8 GPF) for optimal water efficiency. This Aquia IV model is a one-piece toilet, meaning the tank and bowl are crafted from one continuous piece of porcelain for a seamless look, and it features an attractive push-button flushing mechanism. The toilet has a stylish, skirted design that discourages the build-up of dirt and is simple to clean, and it is a universal height, so it's slightly taller than standard height toilets and therefore accessible to a wider range of users.
The S550e WASHLET+ bidet seat that comes with this system is just as sleek as the toilet itself and is equipped with a wide range of luxury features. First, the S550e's four wash modes (rear, rear soft, front and wide front) come with adjustable water temperature and pressure, as well as an aerated wash stream for additional soothing and cleansing. The oscillating spray option increases wash coverage and cleaning power, and the pulsating spray feature both relaxes tender areas and aids in stimulating the bowels. You'll never run out of warm wash water thanks to the S550e's instant water heating system, and the adjustable warm air dryer means you won't need to waste toilet paper drying off. In addition, the adjustable heated seat keeps your tush warm while the automatic deodorizer gets rid of bathroom odors at the source. A convenient built-in nightlight makes it easier and safer to use the restroom in the dark, and the lid senses when you're approaching or leaving the bathroom and automatically opens and closes accordingly. The WASHLET is operated via a convenient remote with two user presets that allow frequent users to pre-program their favorite settings for a personalized, one-button wash. The S550e is easy to keep clean thanks to PREMIST function and the bowl's ultra-smooth CeFiONtect glaze, which work together to create a slippery surface that keeps waste and dirt at bay. The S550e's nozzles also automatically self-sterilize with electrolyzed water after each use for added hygiene. Last but not least, this system is available in both non-auto flushing and auto-flushing models, the latter of which flushes the toilet when a user stands up and moves away from the unit.
With its classy silhouette and top of the line features, the Aquia IV WASHLET+ S550e One-Piece Toilet and Bidet System (1.28 and 0.8 GPF) is guaranteed to take your toileting experience to the next level!
cycle

Features:
Purchase includes one-piece toilet and WASHLET
Elegant, skirted toilet is easy to keep clean
Ultra high-efficiency DynaMax Tornado Flush system with chrome push button
Quiet, dual flush (1.28 GPF or 0.8 GPF)
CeFiONtect glaze and PREMIST feature stop residue from sticking to bowl
2.5" trapway with clear glaze helps prevent clogs
Universal height
WASHLET features a dual action spray with four wash modes and oscillating and pulsating spray options
Soothing, aerated wash stream provides superior relaxation and cleansing
Instant water heating system ensures unlimited warm wash water
Adjustable water temperature and pressure
Warm air dryer with five temperature settings
Adjustable heated seat with quick release feature for easy cleaning
Automatic deodorizer
Built in nightlight
Automatic open/close lid
Energy saving mode
Two programmable user presets
EWATER+ automatically sterilizes the bowl and wand with each use
Available in non-auto flushing and auto-flushing models
Wireless remote control
Comes in white
Elongated bowl and seat
12" rough-in (10" and 14" rough-in unifit components can be purchased separately)
1 year warranty
Additional Information
Model Number(s)
TOTO Aquia IV WASHLET+ S550e One Piece Toilet and Bidet System in Cotton White – MW6463056CEMFG(#01)
TOTO Aquia IV WASHLET+ S550e One Piece Toilet and Bidet System in Cotton White  with Auto Flushing – MW6463056CEMFGA(#01)
TOTO Aquia IV Elongated Bowl – CST646CEMFGAT40
TOTO WASHLET S550e with Contemporary Design, non Auto Flush Compatible – SW3056T40
TOTO WASHLET S550e with Contemporary Design, Auto Flush Compatible – SW3056AT40
TOTO WASHLET Adapter – 9AU321-A
TOTO Auto Flush Kit – THU765
Optional Unifit 10" Rough-In (Sold Separately) – TSU08W.10
Optional Unifit 14" Rough-In (Sold Separately) – TSU08W.14
Push Button Assembly in Cotton White (Sold Separately) – THU735#01-A
Push Button Assembly in Polished Nickel (Sold Separately) – THU735#PN-A
Push Button Assembly in Brushed Nickel (Sold Separately) – THU735#BN-A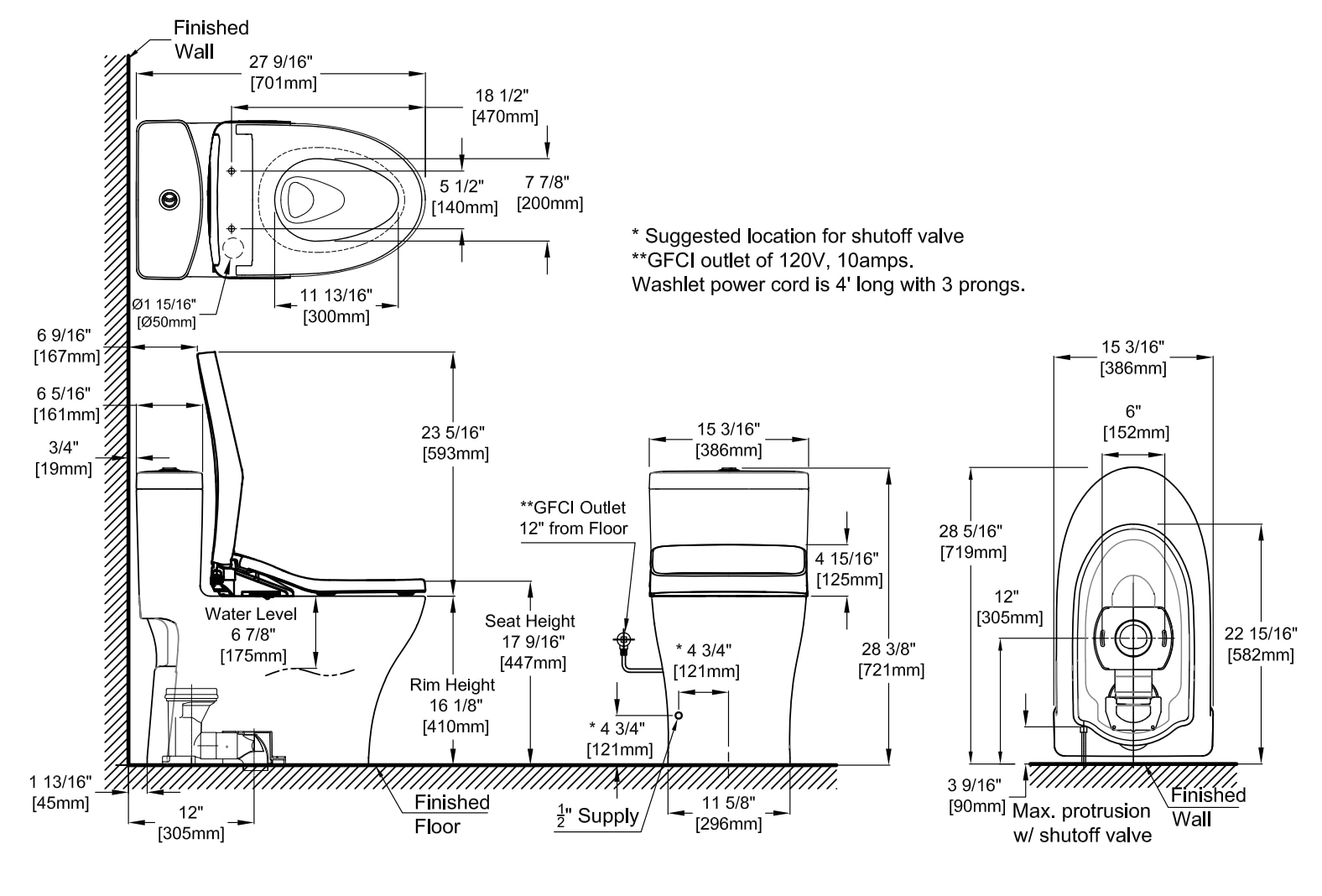 WASHLET+ S350e Instruction Manual
Reviews (1)
Please login if you have purchased this product to leave a review
Questions (1)
Success!
Question Added Successfully
Sort by
How hard is it to install this Washlet+ bidet and toilet system?

If you can handle the install of a standard toilet, chances are high that you'll be able to install this washlet+ system without any issues. For installation purposes, the setup is simply a toilet with a bidet seat on top of it.

Answer by : Daniel Johnson on Oct 13, 2020 10:52:22 AM
TOTO Aquia IV WASHLET+ S550e One-Piece Toilet, Universal Height – 1.28 GPF and 0.8 GPF
$1,800.40
Add to cart