Out of stock
TOTO MH WASHLET+ C200 Wall-Hung Toilet – Standard or Universal Height -1.28 GPF & 0.9 GPF – Copper Supply SKU: CWT4372047MFG-4
Freight Item
Ships To Continental USA Only
Is this the best bidet for you?
Find out by taking our short quiz!
Quick Guide - Items covered below
Returns Policy
Risk Free Trial
Shipping
Warranty
Our Top Picks
Sales Tax
Returns Policy
(The below applies to all items except for integrated units, washlet+ units, toilets, and open box units)
You may return most new, unopened items within 30 days of delivery for a full refund. If there is an error on our end (you received an incorrect or defective item), we will make sure you get the correct item/non-defective item without any cost to you.
In the following situations, the buyer will be responsible for return the shipping costs;
the return is due to the buyer's error
the buyer chooses to return instead of accepting the correct/non-defective item at no cost
the bidet does not fit the buyer's toilet
the buyer simply no longer wants the product
You should expect to receive your refund within four weeks of giving your package to the return shipper, however, in many cases you will receive a refund more quickly. This time period includes the transit time for us to receive your return from the shipper (5 to 10 business days), the time it takes us to process your return once we receive it (3 to 5 business days), and the time it takes your bank to process our refund request (5 to 10 business days).
If you need to return an item, simply reach out via email ([email protected]), online chat, or call us at 248-974-4030
If you requested expedited shipping, when you placed your order, see Note at bottom of this page
NOTE: New unopened returns must be returned in a new unopened state for a refund.  If a return is damaged to the point that it can not be resold on arrival back to the warehouse, no refund will be issued.
Returns Policy for integrated units, washlet+ units, and toilets:
Due to the cost in the transporting these products, Bio Bidet, Studio Lux, Axent, VOVO and TOTO will NOT accept any returns of porcelain units for any reason.  Regardless of if the reason is due to the unit being an incorrect size, measurement, shape, incompatible with the customers installation setup or the customer simply changing their mind, or is dissatisfied with the product. Claims for damaged and/or missing items must be received within 24 hours of delivery.
Please inspect your order on arrival.  If there is any shipping damage, do not sign for the package. Instead, please reply to this email with pictures of the damage, or text pictures of the damage to 248-974-4030, and reject delivery.  Be sure to reference either your full name as it appears on the order or your order number. If the shipper will not allow you to check the package, have them make a note that further inspection is required, and make sure they sign it. Once they leave, check the shipment immediately.
Risk Free Trials
Many Bidet's risk free trial program is an extension of our returns policy.  Unlike our return policy which requires the unit to be unused, bidet seats that we offer risk free trials for can be used, and returned used for a full refund within 30 days (period starts from the date ordered.  This is dictated by the manufacturer.  We do not have control over extending period, no exceptions), less return shipping costs.  While we are unable to re-sell these used units, it's worth it to us to offer risk free trials on these units as the return rates on them are very low. Note: Only one risk free trial per household/customer. Seats that offer risk free trials
If you requested expedited shipping, when you placed your order, see Note at bottom of this page
NOTE: KEEP YOUR BOX.  Risk Free Trial returns must be returned in the box they came in, and packaged the way they came.  This allows them to arrive back in a state that allows Many Bidets to salvage parts.  If a return is damaged to the point that parts can not be salvaged on arrival back to the warehouse, no refund will be issued.
Shipping
We can ship all bidet seats to the US and Canada.  We can ship some of our products to other countries as well.  Please contact us for details.
We offer free shipping on nearly all* of our products.  Free shipping only applies to the USA and Canada.  Just one more way we save you money!  Bidets orders are processed same day if ordered before 1PM EST. Shipping time varies depending on the warehouse:
Bidets ship (leave the warehouse on their way to you) within the below time frames.  Note that there are rare occasions when shipping can be quicker, or take longer.
Bio Bidet: Within 48 hours
Brondell: Within 48 hours, often within 24 hours
TOTO: Within 48 hours, sometimes as long as 72 hours
Cascade and Eco Nova: Same business day if ordered before 3pm EST
Others: Reach out to us, but most everything else ships in 48 hours
Cascade and Eco Nova bidet seats are generally delivered in 3 business days or less anywhere in the Continental United States. Other brands may take 5 business days to be delivered. Many Bidets does not guarantee delivery time frames for any of these bidets, but it is very rare to see them take longer.
Because of the size and fragile nature of our integrated units and washlet+ units, these units only ship to the continental United States.
*Parts orders shipped to Canada may incur additional shipping fees
Warranty
Many Bidets offer the following warranties:
Manufacturer Warranty:
These warranties are offered by the manufacturer themselves, and can vary from limited warranty to full warranty. These warranties are almost always valid for bidet seat purchases, even if a personalized best price offer has been given.
Manufacturer Extended Warranty
Extended warranties from the manufacturer are offered for an additional fee. These extended warranties tend to be full warranties that cover 100% of parts and labor. However, they do need to be purchased with the seat. By default, bidet seats not purchased through the site (personalized best price quotes) will not qualify for these extended manufacturer warranties. Personalized best price quotes can be designed to include these additional warranties, but must be requested by the purchaser.
NOTE: All warranties only valid to original purchaser
NOTE: If you requested expedited shipping, shipping charges will not be refunded on returned orders or risk free trials.
Our Top Picks
Many Bidets has been around for nearly a decade.  During this time, we've seen many bidets come and go (we currently sell over 350 different bidet skus). From time to time, we run across a bidet that blows us away.  if you see the TOP PICK badge on a product page, you'll know you've run across one of the products we find truly special. If you want to talk to us about why, simply reach out!
Sales Tax
When it comes to sales taxes, we currently pay sales tax where we have nexus.  Each state has it's own rules for nexus.  While, we don't charge our customers sales tax for any state, we pay sales tax to Michigan on our Michigan customers behalf.  Please be sure to follow your state's sales and use tax laws if you believe taxes apply to your transaction.
Description
TOTO MH WASHLET+ C200 Wall-Hung Toilet – Standard or Universal Height – 1.28 GPF & 0.9 GPF – Copper Supply
The TOTO MH Washlet+ C200 Wall Hung Toilet and Bidet system features a contemporary, elegant look as well as a variety of high-quality wash features that will add comfort and convenience to your restroom routine. The MH toilet is a wall mounted unit, meaning that the tank and flushing mechanism are hidden in the wall, thereby creating the illusion of floating mid-air over the bathroom floor. In addition to looking great, the practical benefit to a wall mounted toilet is that it can be mounted between 15 and 19 inches off the ground, depending on your personal needs, and takes up around 9 inches less bathroom space than a floor mounted toilet, making it a great choice for small bathrooms. It comes with TOTO's effective Tornado flush technology and offers two flush options, 1.28 gallons per flush or 0.9 gallons per flush, for maximum efficiency.
The C200 WASHLET+ included in the purchase of this system has been specially designed for the MH toilet in such a way that the water and electrical connections are hidden from view. This provides a supremely sleek look, though do keep in mind that the custom fit means that the WASHLET+ won't be compatible with other toilets. The C200 WASHLET comes with three wash modes (front, rear, soft rear) along with adjustable wand position, water pressure and water temperature for maximum user control and comfort. The oscillating spray option causes the wand to move back and forth for increased wash coverage and additional soothing, and the pulsating wash option alternates the pressure between firm and soft for a relaxing massage that can help stimulate the bowels. This seat comes with a tank heating system, which differs from seats with instant water heaters in that it keeps a limited amount of warm water on hand at any given time. Use the bidet several times in a row or run an extra-long wash cycle and the tank may run out of warm water. At that point, the seat will switch to using cool water until the tank has a chance to refill and reheat. The C200 provides the option of a toilet paper-free experience thanks to its built in warm air dryer, with adjustable temperature settings, and eliminates any embarrassing odors with the automatic deodorizer. Two programmable user presets allow you to program your favorite settings into the wireless remote for a fully customized, one button wash experience.
All in all, the TOTO MH Washlet+ C200 Wall Hung Toilet and Bidet system provides everything you need to take your restroom experience to the next level!

Features:
Purchase includes toilet and WASHLET
Powerful 3D Tornado Flush system
Dual flush (1.28 GPF and 0.9 GPF)
Chrome push plate flush button
CeFiONtect glaze and PREMIST feature stop residue from sticking to bowl
WASHLET features a dual action spray with three wash modes: front, rear, soft rear
Adjustable wand position, water pressure and water temperature
Oscillating and pulsating spray options
Soothing, aerated wash stream provides superior relaxation and cleansing
Tank water heating system provides limited warm water
Warm air dryer with five temperature settings
Heated seat with adjustable temperature controls
Automatic air deodorizer
Two programmable user presets
Energy saving mode
Operated via slim remote control with illuminated touch pad
Elongated bowl and seat
Comes with copper supply line
Supports up to 880 lbs
Universal height (adjustable 15"-19" mounting height)
Comes in white
1 year warranty
Additional Information
Model Number(s):
MH WASHLET+ C200 Wall Hung Toilet and Bidet System – 1.28 GPF & 0.9 GPF: CWT4372047MFG-4#01
MH WASHLET+ Wall Hung Toilet: CT437FGT20#01
WASHLET+ C200 D-Shape (will only fit the MH WASHLET+ Wall Hung Toilet): SW2047T20#01
In-Wall Tank System (Pex Pipe): WT153M#01
In-Wall Tank System (Copper Pipe): WT154M#01
Polished Chrome Push Plate: YT820#CP
Brushed Stainless Steel Push Plate: YT820#SS
Glass/White Push Plate: YT830
WASHLET Connection Kit: THU468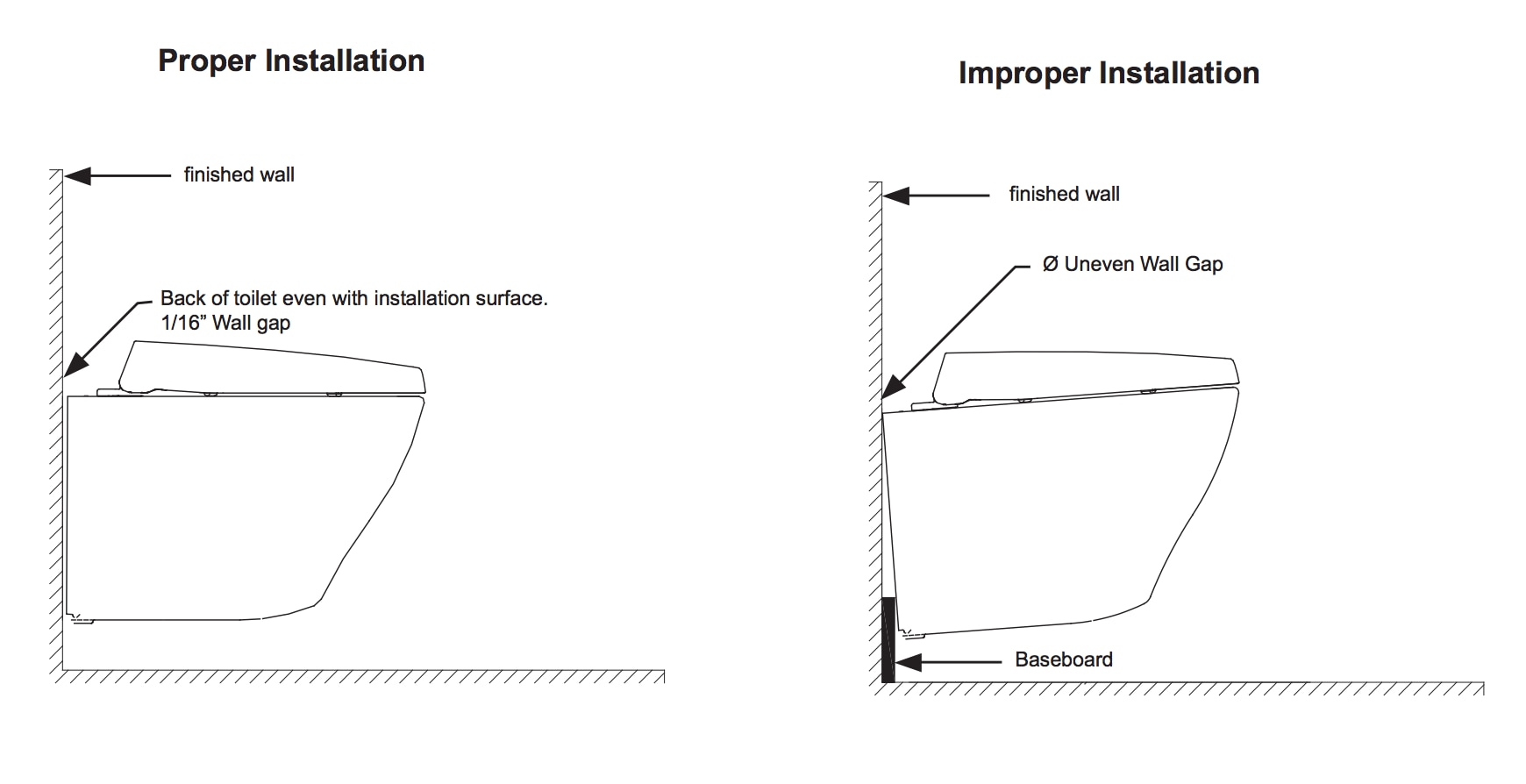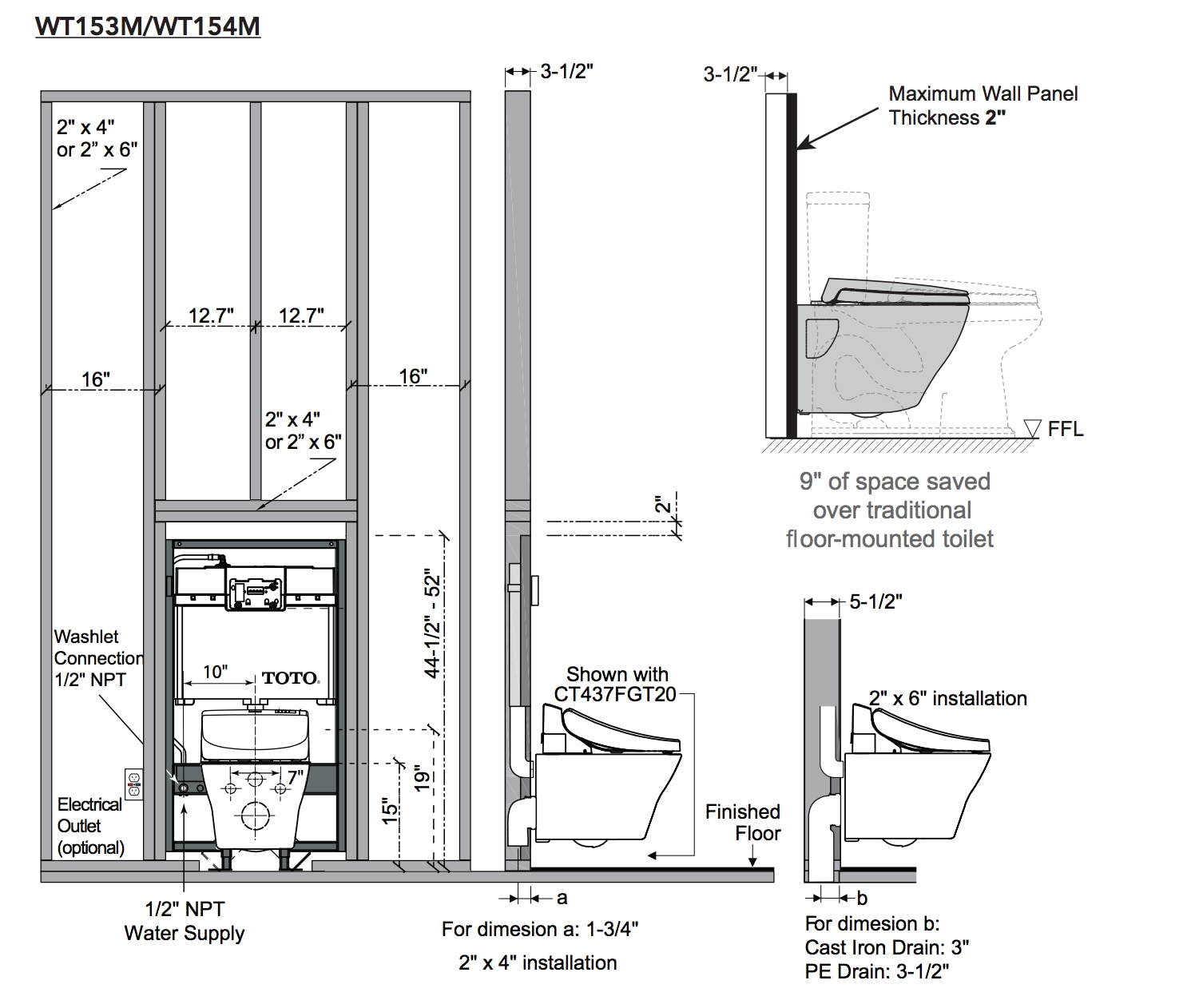 Optional Upgrades
White Matte Basic Square Push Plate – YT920#WH
Matte Silver Basic Square Push Plate – YT920#MS
White Matte Basic Round Push Plate – YT930#WH
Stainless Steel Wall Round Push Plate – YT970#SS
Stainless Steel Wall Square Push Plate – YT980#SS
Push Button Style Guide

YT930#MS
Matte Silver Basic Round Push Plate
YT920#WH
White Matte Basic Square Push Plate
YT920#MS
Matte Silver Basic Square Push Plate
YT930#WH
White Matte Basic Round Push Plate
YT970#SS
Stainless Steel Wall Round Push Plate
YT980#SS
Stainless Steel Wall Square Push Plate
TOTO MH WASHLET+ C200 Wall-Hung Toilet – Standard or Universal Height -1.28 GPF & 0.9 GPF – Copper Supply SKU: CWT4372047MFG-4
Add to cart