In stock
TOTO Vespin II 1G WASHLET+ C200 Two-Piece Toilet and Bidet System – 1.0 GPF
$999.60
Description
TOTO Vespin II 1G WASHLET+ C200 Two-Piece Toilet and Bidet System – 1.0 GPF
The TOTO Vespin II 1G Toilet has a clean, crisp silhouette and is a universal height, making it ADA compliant. In addition, it features TOTO's ultra-smooth CeFiONtect bowl glaze and efficient, high-power Tornado Flush System that work in tandem to discourage waste from sticking to the bowl. Finally, it's been designed to keep the C200 WASHLET+'s cords and water connections out of sight for a streamlined look that isn't achievable with most traditional toilet and bidet combos. It's good to keep in mind that the Vespin II 1G is only designed to hide the cords and connections of WASHLET+ bidet seats, and similarly, the C200 WASHLET+ is only compatible with WASHLET+ toilets.
The C200 WASHLET+ features all the settings needed for a thorough, comfortable cleansing experience. The seat comes with three wash modes—front, rear and soft rear—and the water temperature, water pressure, and wand position are adjustable for optimum comfort. The oscillating spray option moves the bidet wand back and forth to create a soothing sensation, and the pulse spray option alternates the wash pressure between hard and soft for a relaxing massage that can help stimulate the bowels. The C200's tank water heating system provides a limited amount of warm water, and if it runs out, the seat switches to cool water until the tank can refill and reheat. The warm air dryer allows you to get dry without relying on toilet paper, and the automatic deodorizer gets rid of bathroom odors for an embarrassment free experience. For your convenience, the C200 WASHLET+ comes with two user presets that allow you to program your favorite settings into the remote for a customized, one button wash each time you use the bidet, and the energy saving mode cuts down on the seat's electricity consumption when it's not being used. Do note that the C200 WASHLET+ is operated via a wireless remote control versus a side arm control panel.
With its sleek design and array of features, the TOTO Vespin II 1G WASHLET+ C200 Two-Piece Toilet and Bidet System will instantly upgrade your bathroom's look as well as the quality and comfort of your toileting routine!
Features:
Purchase includes toilet and WASHLET
Powerful Tornado Flush system – efficient single flush, 1.0 GPF
CeFiONtect glaze and PREMIST feature stop residue from sticking to bowl
Universal height and ADA compliant
WASHLET features a dual action spray with three wash modes: front, rear, soft rear
Adjustable wand position, water pressure and water temperature
Oscillating and pulsating spray options
Soothing, aerated wash stream provides superior relaxation and cleansing
Tank water heating system provides limited warm water
Warm air dryer with five temperature settings
Adjustable heated seat
Automatic deodorizer
Energy saving mode
Two programmable user presets
Operated via remote control with illuminated touch pad
Comes in white
Elongated bowl and seat
Standard 12″ rough-in; 10″ and 14″ rough-in options available
1 year warranty

Additional Information
Model Number(s):
TOTO Vespin II 1G WASHLET+ C200 Two-Piece Toilet and Bidet System (1.0 GPF) – MW4742044CUFG
TOTO Vespin II 1G Toilet with CeFiONtect Glaze – CT474CUFGT20
TOTO Vespin II 1G Tank and Cover Only – ST453U
TOTO Vespin II 1G Tank and Cover Only, Right Hand Trip Lever – ST453UR
TOTO C200 WASHLET+ – SW2044T20
Optional 10″ Rough-In – TSU01W.10R
Optional 14″ Rough-In – TSU01W.14R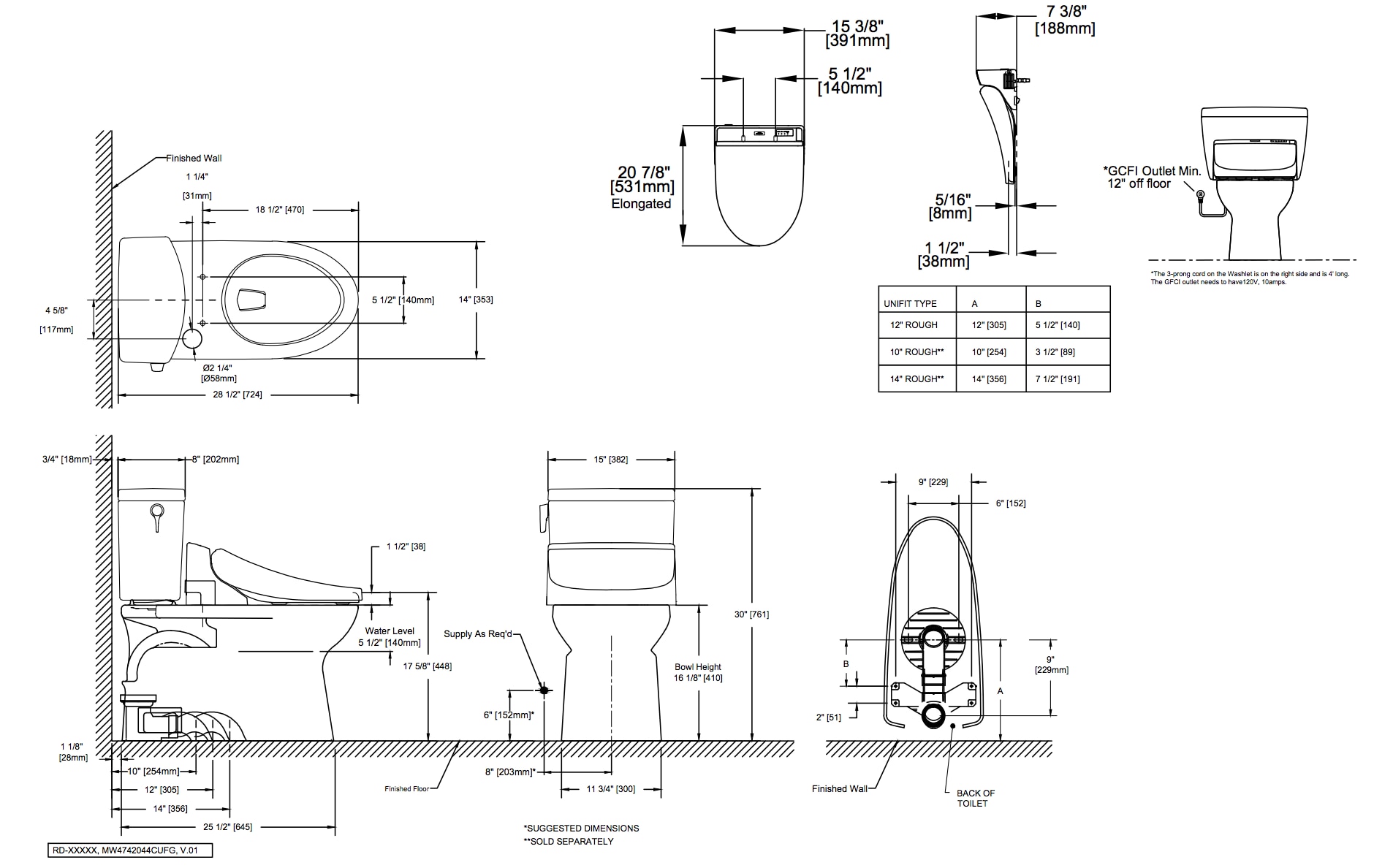 Reviews (0)
Please login if you have purchased this product to leave a review
Questions (1)
Success!
Question Added Successfully
Sort by
How hard is it to install this Washlet+ bidet and toilet system?

If you can handle the install of a standard toilet, chances are high that you'll be able to install this washlet+ system without any issues. For installation purposes, the setup is simply a toilet with a bidet seat on top of it.

Answer by : Daniel Johnson on Oct 13, 2020 10:52:22 AM
TOTO Vespin II 1G WASHLET+ C200 Two-Piece Toilet and Bidet System – 1.0 GPF
$999.60
Add to cart