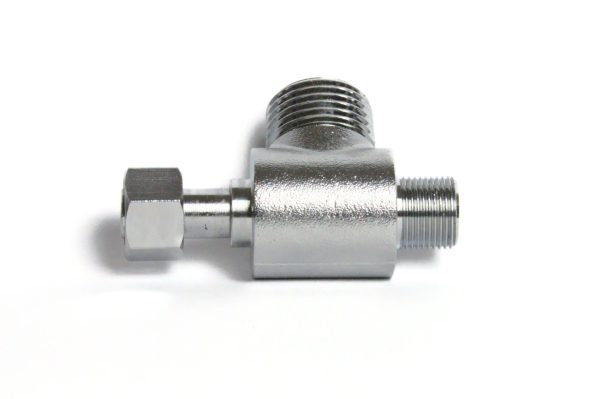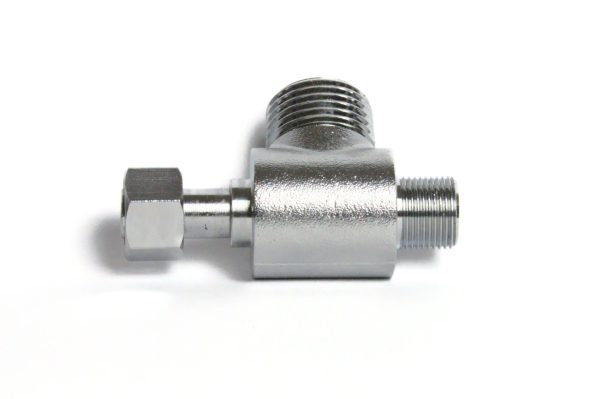 In stock
Bidet T-Valve for Skirted Toilet
$19.99
Returns Policy
(The below applies to all items except for integrated units)
You may return most new, unopened items within 30 days of delivery for a full refund. If the return is a result of our error (you received an incorrect or defective item), we will make sure you get the correct item/non-defective item without any cost to you. In a situation where the return is due to the buyer's error, or the buyer simply no longer wants the product, the buyer will be responsible for the shipping cost. You should expect to receive your refund within four weeks of giving your package to the return shipper, however, in many cases you will receive a refund more quickly. This time period includes the transit time for us to receive your return from the shipper (5 to 10 business days), the time it takes us to process your return once we receive it (3 to 5 business days), and the time it takes your bank to process our refund request (5 to 10 business days). If you need to return an item, simply reach out via email (support@manybidets.com), online chat, or call us at 248-974-4030
Returns Policy for integrated units:
Due to the cost in the transporting this product, Bio Bidet and/or TOTO will NOT accept any returns of integrated units due to the unit being an incorrect size, measurement, shape, incompatible with the customers installation setup or the customer simply changing their mind. For issues of a unit arriving damaged or missing parts, due to the large dimension and weight, a white glove curbside service will be used for delivery. The same method of shipping must be used for returns of damaged or missing parts to avoid further damages during transit. : Claims for damaged and/or missing items must be received within 5 days of delivery.
Please inspect your order on arrival. If there is any shipping damage, do not sign for the package. Instead, please reply to this email with pictures of the damage, or text pictures of the damage to 248-974-4030, and reject delivery. Be sure to reference either your full name as it appears on the order or your order number. If the shipper will not allow you to check the package, have them make a note that further inspection is required, and make sure they sign it. Once they leave, check the shipment immediately.
Risk Free Trials
Many Bidet's risk free trial program is an extension of our returns policy. Unlike our return policy which requires the unit to be unused, bidet seats that we offer risk free trials for can be used, and returned used for a full refund within 30 days (period starts from the date ordered), less return shipping costs. While we are unable to re-sell these used units, it's worth it to us to offer risk free trials on these units as the return rates on them are very low. Note: Only one risk free trial per household/customer.
Seats that offer risk free trials
Shipping
We can ship to the US and Canada. We can ship some of our products to other countries as well. Please contact us for details. We offer free shipping on all our products. Free shipping only applies to the USA and Canada. Just one more way we save you money! Bidets are shipped same day if ordered before 1PM EST. Bio Bidet and Brondell bidet seats are generally delivered in 3 business days or less anywhere in the Continental United States. Many Bidets does not guarantee 3 day delivery of these seats, but it is very rare to see them take longer. Seats other than Bio Bidet and Brondell still tend to be delivered within 5 business days anywhere in the Continental US.
Warranty
Many Bidets offer the following warranties:
Manufacturer Warranty:
These warranties are offered by the manufacturer themselves, and can vary from limited warranty to full warranty. These warranties are almost always valid for bidet seat purchases, even if a personalized best price offer has been given.
Manufacturer Extended Warranty
Extended warranties from the manufacturer are offered for an additional fee. These extended warranties tend to be full warranties that cover 100% of parts and labor. However, they do need to be purchased with the seat. By default, bidet seats not purchased through the site (personalized best price quotes) will not qualify for these extended manufacturer warranties. Personalized best price quotes can be designed to include these additional warranties, but must be requested by the purchaser.
NOTE: All warranties only valid to original purchaser
Description
Installing a bidet seat on a standard toilet is generally quick and easy with no special expertise needed. However skirted toilets present a challenge due to their unique configuration, which can make it tricky to install the t-valve that came with your bidet seat. There's no need to worry, because we have an easy and affordable solution!
This specially designed bidet T-valve connects to your bathroom's water supply line at the wall versus connecting to the fill valve under your toilet's tank. Simply plug your toilet's existing water hose into one side of the connector and your bidet seat's hose into the other, and you're good to go. This setup is ideal for skirted toilets since their fill valves can be difficult to access.
Product Details
Crafted from high quality stainless steel
Features 3/8" compression threads for attaching to the wall shut-off valve and the toilet supply hose; ½" pipe thread for attaching to the bidet hose
Special Considerations
To ensure that this bidet T-valve will meet your needs, we recommend confirming the size of the connections on your wall shutoff and bidet's water hose. This T-adapter connector valve for toilet bidets is designed for a 3/8″ water shutoff valve, 3/8″ toilet hose, and 1/2″ bidet hose. If your wall shutoff is 1/2″ or if your bidet seat hose is 3/8″, this T-valve won't work.
This T-valve isn't compatible with TOTO Washlets, which come with a T-valve already fused to the bidet's water hose. If you're installing a Washlet on a skirted toilet, you'll need to purchase an extension hose that's compatible with your toilet tank's fill valve. Simply connect one end of the extension hose to your toilet's fill valve and the other end to the Washlet's T-valve. Then connect your bathroom's water supply hose to the T-valve and you're in business.
Questions (0)
Recently viewed products
TOTO

$

1,176.00 –

$

1,352.40