In stock
dib-850 Special Edition Bidet Seat
$699.00 – $798.00
Your Purchase includes>
30 day risk free trial
3 year warranty
All parts needed for install on a standard toilet
FREE Shipping to Continental USA & Canada
Delivers in 2-7 Business Days
Exclusive Easy 60 Day Returns & Exchanges
SKU:

N/A
Categories: 3 Year Warranty, 3-in-1 Nozzles, 6 Year Warranty, Adjustable Warm Water Washes, Bidet Seats, Bidet Style, Browse Bidet Seats by Toilet Type They Fit, Browse Bidet Seats Warranty, Browse by Bidet Seat Color, Browse by Bidet Seat Control Options, Browse By Bidet Seat Water Heating System, Easily Exchangeable Nozzle Tips, Elongated Toilets, Instant Water Heating, One Piece Toilets, Round Toilets, Two Piece Toilets, White Bidet Seats, Wireless Remotes
Tags: 110 Volt, Adjustable Warm Air Dry, Adjustable Warm Seat Options, Built In Deodorizers, Enema Function, Sittable Lids, Soft Slow Close Lids, Support 350 pounds or more, Ultra-Comfortable Seats, User Presets
Returns Policy
(The below applies to all items except for integrated units)
You may return most new, unopened items within 30 days of delivery for a full refund. If the return is a result of our error (you received an incorrect or defective item), we will make sure you get the correct item/non-defective item without any cost to you. In a situation where the return is due to the buyer's error, or the buyer simply no longer wants the product, the buyer will be responsible for the shipping cost. You should expect to receive your refund within four weeks of giving your package to the return shipper, however, in many cases you will receive a refund more quickly. This time period includes the transit time for us to receive your return from the shipper (5 to 10 business days), the time it takes us to process your return once we receive it (3 to 5 business days), and the time it takes your bank to process our refund request (5 to 10 business days). If you need to return an item, simply reach out via email (support@manybidets.com), online chat, or call us at 248-974-4030
Returns Policy for integrated units:
Due to the cost in the transporting this product, Bio Bidet and/or TOTO will NOT accept any returns of integrated units due to the unit being an incorrect size, measurement, shape, incompatible with the customers installation setup or the customer simply changing their mind. For issues of a unit arriving damaged or missing parts, due to the large dimension and weight, a white glove curbside service will be used for delivery. The same method of shipping must be used for returns of damaged or missing parts to avoid further damages during transit. : Claims for damaged and/or missing items must be received within 5 days of delivery.
Please inspect your order on arrival. If there is any shipping damage, do not sign for the package. Instead, please reply to this email with pictures of the damage, or text pictures of the damage to 248-974-4030, and reject delivery. Be sure to reference either your full name as it appears on the order or your order number. If the shipper will not allow you to check the package, have them make a note that further inspection is required, and make sure they sign it. Once they leave, check the shipment immediately.
Risk Free Trials
Many Bidet's risk free trial program is an extension of our returns policy. Unlike our return policy which requires the unit to be unused, bidet seats that we offer risk free trials for can be used, and returned used for a full refund within 30 days (period starts from the date ordered), less return shipping costs. While we are unable to re-sell these used units, it's worth it to us to offer risk free trials on these units as the return rates on them are very low. Note: Only one risk free trial per household/customer.
Seats that offer risk free trials
Shipping
We can ship to the US and Canada. We can ship some of our products to other countries as well. Please contact us for details. We offer free shipping on all our products. Free shipping only applies to the USA and Canada. Just one more way we save you money! Bidets are shipped same day if ordered before 1PM EST. Bio Bidet and Brondell bidet seats are generally delivered in 3 business days or less anywhere in the Continental United States. Many Bidets does not guarantee 3 day delivery of these seats, but it is very rare to see them take longer. Seats other than Bio Bidet and Brondell still tend to be delivered within 5 business days anywhere in the Continental US.
Warranty
Many Bidets offer the following warranties:
Manufacturer Warranty:
These warranties are offered by the manufacturer themselves, and can vary from limited warranty to full warranty. These warranties are almost always valid for bidet seat purchases, even if a personalized best price offer has been given.
Manufacturer Extended Warranty
Extended warranties from the manufacturer are offered for an additional fee. These extended warranties tend to be full warranties that cover 100% of parts and labor. However, they do need to be purchased with the seat. By default, bidet seats not purchased through the site (personalized best price quotes) will not qualify for these extended manufacturer warranties. Personalized best price quotes can be designed to include these additional warranties, but must be requested by the purchaser.
NOTE: All warranties only valid to original purchaser
Description
Bio Bidet DIB-850 Special Edition Bidet Seat
The Bio Bidet DIB Special Edition bidet features a perfect combination of style and luxury in a modest yet alluring design. The sleek and polished finish morphs beautifully into a unified silhouette that adds an extra bit of sophistication and charm to your bathroom. The superfluous bulkiness has been removed from where it wasn't needed and several special curves have been added to conform to the human body in a much better way. The seat on the Bio Bidet DIB-850 concaves giving you a more natural feel while sitting. The housing also curves to support your back in a way other bidet seats don't. On top of this, the lid is also contoured to optimize comfort and is 'sittable' for persons up to 200 pounds. Not only is the Bio Bidet DIB-850 designed with comfort in mind, but this modern bidet toilet supports up to 400 pounds, making it a great option for everyone in your home!
FREE Bonus Items
FREE Same Day Shipping to Continental USA & Canada
Best Price Guaranteed (Request a Best Price)
FREE EXCLUSIVE 60 day returns
Delivered in 2 to 7 Business Days
FREE 3 Year Warranty
Key Features
On-demand (instant) water heating system
Stainless steel nozzles with patented 3-in-1 nozzles
Nozzles with self cleaning functionality
Wider stream of water with adjustable oscillating feature – exclusive!
Pulse and massage cleaning
Satisfying and soft posterior and feminine cleaning
Aerated water stream
Warm air dry with adjustable temperature
Warm seat with adjustable temperature and contoured sittable lid (up to 200 lbs)
Soft closing lid
Wireless remote control with touch screen functionality
More sitting area for optimum comfort and luxury
Quick one-touch nozzle replacement
Strong deodorizer
Smart body sensor
Saves power automatically
Quick release function for easy cleaning
3 year full warranty, the best in the bidet industry
The aerated water stream along with the smart 3-in-1 nozzle technology provides a fantastic and satisfying cleansing every time you use this bidet. The improved oscillation wash provides full control at your fingertips. You can easily control the area to be washed according to your personal needs by shortening and lengthening the water spray pattern. Pamper yourself with an unlimited supply of warm water from the instant water heating system. Have a perfect water temperature for every wash and get a soothing relaxed feel every time you use this bidet. There's no doubt that the Bio Bidet dib Special Edition bidet seat is the perfect example of sophistication and luxury in the bathroom. Treat yourself today with this amazing bidet seat!
Bio Bidet DIB-850 Fitting Diagram
Want to learn more? Check out our:

Bio Bidet dib Special Edition Bidet Seat Editor's Review
Bio Bidet DIB-850 Special Edition Bidet Seat Comprehensive Guide
Reviews (14)
Please login if you have purchased this product to leave a review
Questions (1)
Success!
Question Added Successfully
Sort by
Can I install this bidet seat myself?

About 95% of our customers install this seat on their own in well under an hour.  If you decide to hire help, you can often hire a handy person instead of a plumber, and thus get less expensive help, but these seats are designed to be installed without professional help.

Answer by : Daniel Johnson on Sep 15, 2020 01:10:24 PM
Manuals & Specs
Fitting Guide
Elongated VS Round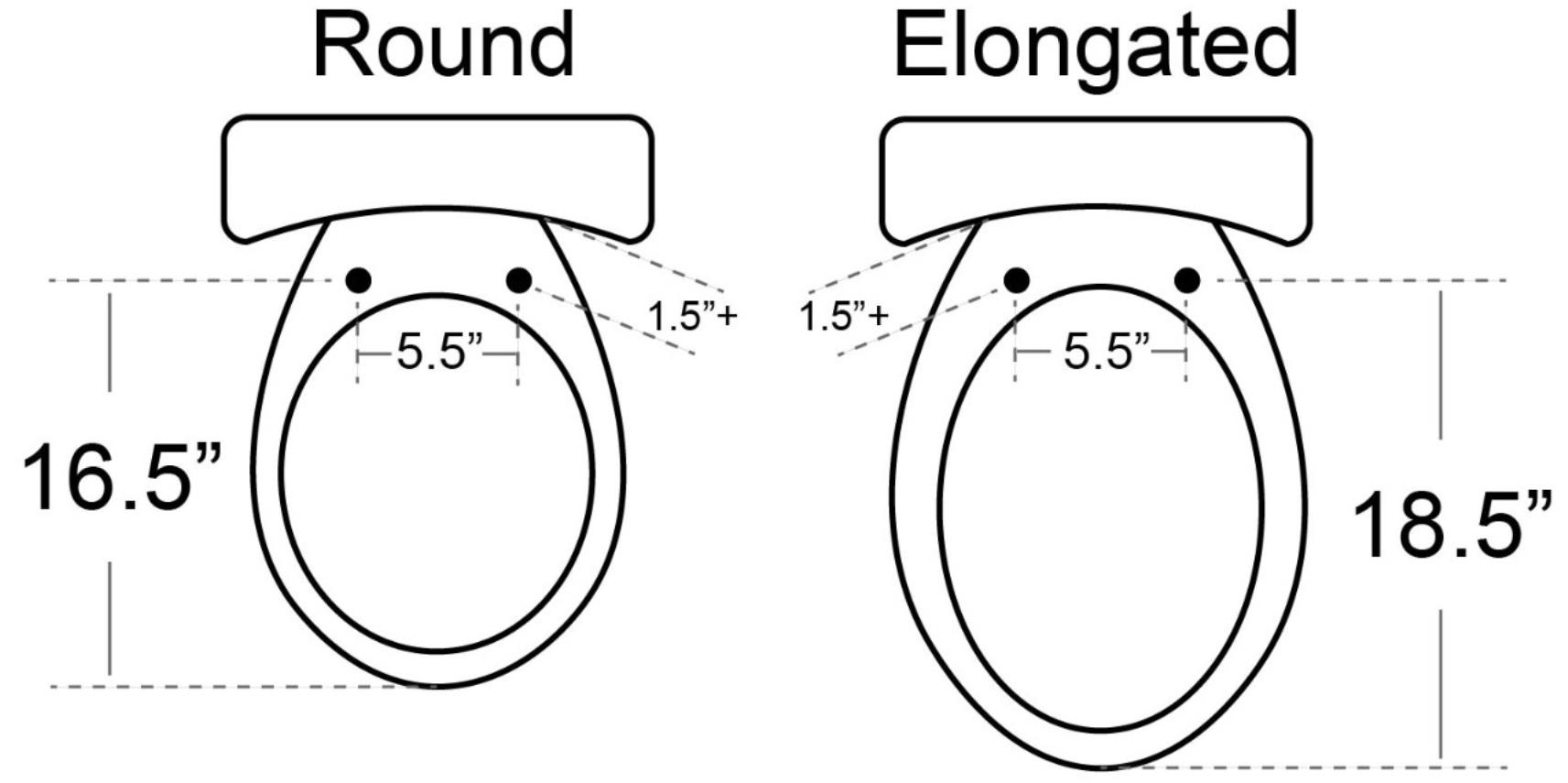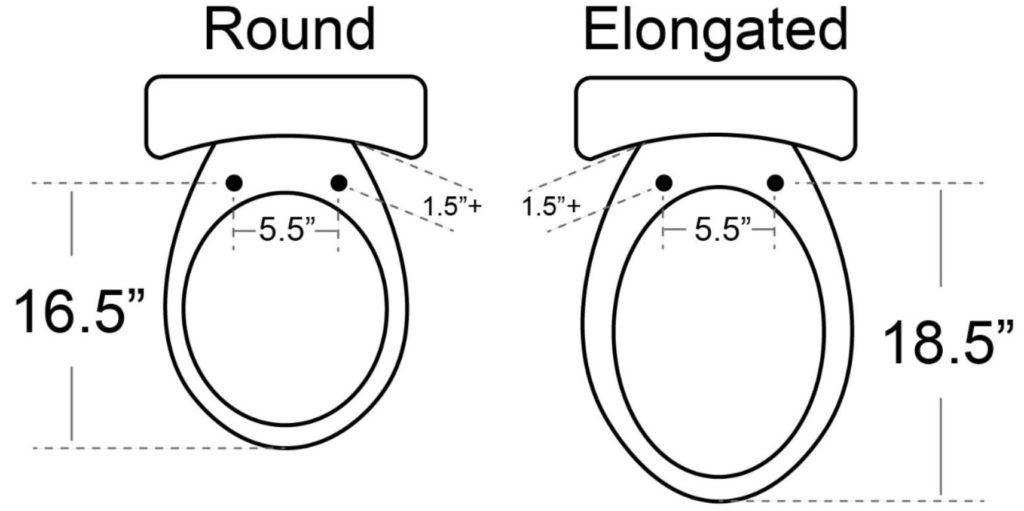 Toilet Type Fitting Guide
This bidet seat will work with nearly all 1 and 2 piece toilets (diagrams A and B below) but will not work with toilets with a french curve (diagram C below). If you're looking for a bidet seat for a toilet as shown in diagram C below look below the diagram for recommendations
Recommendations for bidet seats with a french curve (Diagram C above)
Top Pick: Cascade 3000 Bidet Seat
Second Place Pick: Blooming R1063 Bidet Seat
Third Place Pick: Galaxy GB-5000 Bidet Seat
dib-850 Special Edition Bidet Seat
$699.00 – $798.00
Add to cart