Bio Bidet Review
Bio Bidet is one of the most trusted names in the luxury bidet toilet seat market, and the reliability and quality of their products make it one of our top selling brands. Bio Bidet also offers some of the best warranties in the market, including an unlimited 3 year warranty on their flagship products. Over the years, Bio Bidet has continued to prove themselves time and time again by producing some of the longest lasting seats around.
Bio Bidet also provides some of the highest water pressure of any bidet seat currently made and offers a classy, sleek design on all its models. Between their great seats and customer service, it's easy to see why the Bio Bidet brand is so popular!
Why choose Bio Bidet?
There are many reasons to choose Bio Bidet as your bidet seat brand of choice. Below we will detail out why so many of our customers choose the Bio Bidet brand.
Bio Bidet offers high quality products with great track record. Nearly all of Bio Bidet's seats last with the best of them. They back up these quality seats with some of the best warranties on the market. Bio Bidet also allows it's customers to upgrade their warranties to a 6 year warranty for a fee. If you're looking for peace of mind and a quality seat, it's hard to do better then a Bio Bidet seat.
The Bio Bidet team operates out of Crystal Lake IL. This means that if you have a warranty claim, need a spare part, or need help troubleshooting our bidet seat, you won't need to wait to have anything shipped from overseas, and you'll be able to get help in real time.
Bio Bidet response rates to customer questions and concerns tends to be very quick. Being in the business of bidet seats, we often reach out to Bio Bidet on behalf of our customers. When emailing Bio Bidet, we tend to see a response within 24 hours. Sometimes emails to bio bidet get overlooked, but this is rare. Phone calls to Bio Bidet tend to be answered quickly as well. If you are a customer of ours, and have a hard time getting a hold of them, let us know. We're always ready to step in.
Many of Bio Bidet's top sellers have been around for over a decade. By getting one of Bio Bidet's top selling bidet seats, you know you're getting one that has already been tested by many, and has great reviews.
Bio Bidet Problems:
Despite Bio Bidet being one of our favorite brands on the market, and one of the most common brands sold by Many Bidets, all brands have problems. When giving a full, honest, complete review, we would be amiss if we didn't share Bio Bidet issues as well. Below we will list issues and problems we've seen with Bio Bidet over the years. These problems have been minor, and Bio Bidet is still one of our top recommended brands. Regardless of this, to help you make an educated decision, we feel like sharing both the positives and negatives of each bidet brand is crucial.
From time to time (it's rare) we have seen Bio Bidet ship the wrong seat. The good news is that when Bio Bidet makes a mistake like this, they are good about correcting the problem, and do so quickly. If you run into a situation like this, reach out to us, and we'll make sure Bio Bidet gets it corrected.
While VERY rare, we have seen a few times over the years where Bio Bidet mistakenly ships a seat they are working on under warranty instead of a new seat to one of our customers who has just purchased. When this has happened in the past, Bio Bidet has corrected the problem expediently. If you end up in this situation, reach out to us ASAP, and we will make sure Bio Bidet corrects the problem, and does so quickly.
While most of Bio Bidet's seats are nearly problem free, there are some seats they sell that we've found to be more problematic. These seats can change from year to year, as we see problematic seats either being discontinued (as an example, the IB-835), or added to the market. If you would like recommendations on which Bio Bidet seats to purchase, simply reach out to us!
Top Recommended Bio Bidet Seats
Bio Bidet Bliss BB-1000
The BB-1000 offers a range of amenities to keep you comfortable while getting you thoroughly clean. You'll enjoy a heated seat, front and rear cleansing, and a warm air dryer. Users can even adjust the water pressure and temperature, seat temperature, air dryer temperature, and wand position for a fully personalized cleanse. The built-in deodorizer keeps your bathroom smelling fresh, and the wireless remote makes the seat easy to operate. In addition, the BB-1000 comes with an enema wash function, which is a must have if you struggle with constipation, as well as pulsating and oscillating wash options for enhanced comfort. Self-cleaning nozzles help maintain unit hygiene, and the nozzles are easy to replace at home should you wish to deep clean or replace them. One key difference between the BB-1000 and models like the BB-2000 is that it has a tank water heater. This means that the seat keeps a set amount of warm water ready at all times. However, should you use up the warm water in the tank, the seat switches to cool water until the tank can reheat and refill. Overall, the BB-1000 provides a delightfully comfortable and thorough cleansing experience, and it's easy to see why it's a popular model.
Shop the Bio Bidet Bliss BB-1000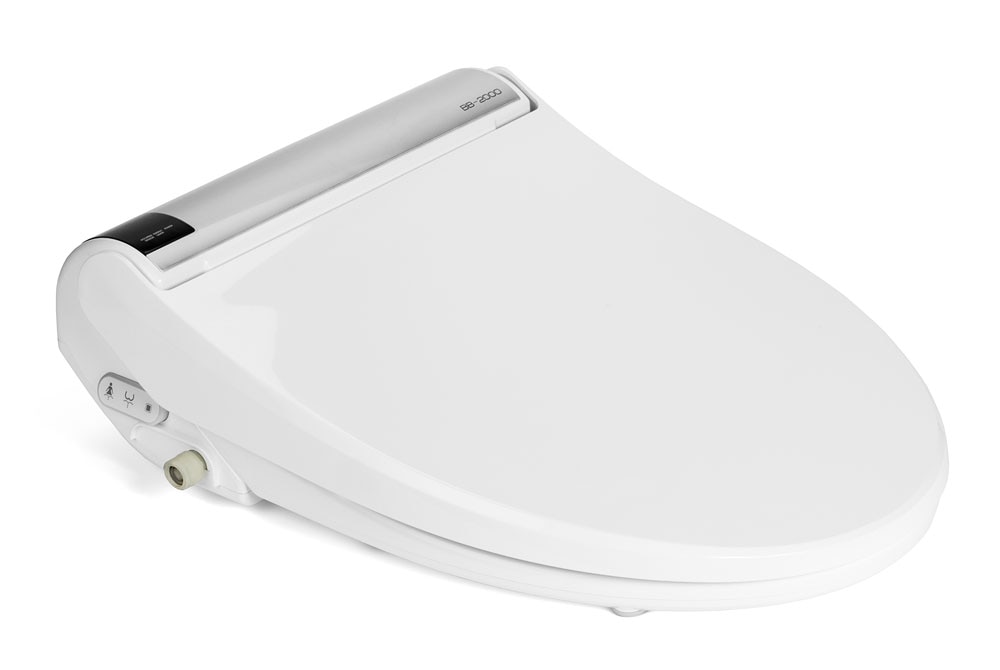 Bio Bidet Bliss BB-2000
The BB-2000 comes with all the same great base features as the BB-1000, plus a few upgrades and extras. One key upgrade is that the BB-2000 has a hybrid water heater, which generates unlimited warm water with great temperature consistency. Additional extras include stainless steel nozzles, an LED nightlight, child mode, and a one-button wash and dry feature. With it's wide range of high-end features, its easy to see why the BB-2000 is a top selling seat!
Shop the Bio Bidet Bliss BB-2000
Bio Bidet Troubleshooting
When it comes to troubleshooting a bio bidet seats, most of the troubleshooting steps are pretty similar from seat to seat, but there are some exceptions. In general, the first troubleshooting steps we recommend taking any time you have a problem would be to unplug the seat for 30 minutes, and plug it back in. If the problem persists, you'll likely want to reach out. Below are other product specific troubleshooting steps.
Bio Bidet USPA IB-835 Troubleshooting Tips
Bio Bidet Bliss BB-2000 Bidet Seat Troubleshooting Tips