Detailed Bidet Toilet Seat Comparison: Brondell Swash 1400 Bidet Seat VS. American Standard Advanced Clean AC 2.0 SpaLet Bidet Seat
View These Seats:
American Standard Advanced Clean AC 2.0 SpaLet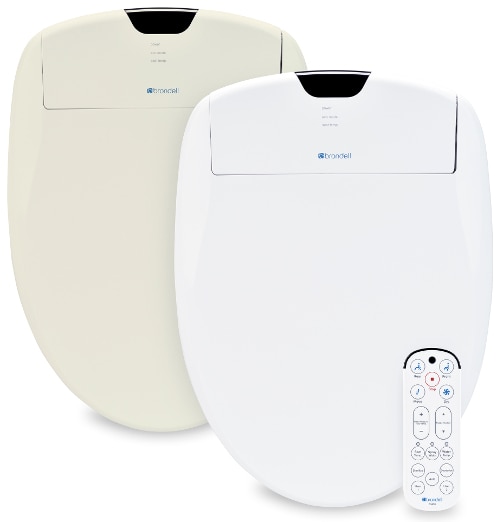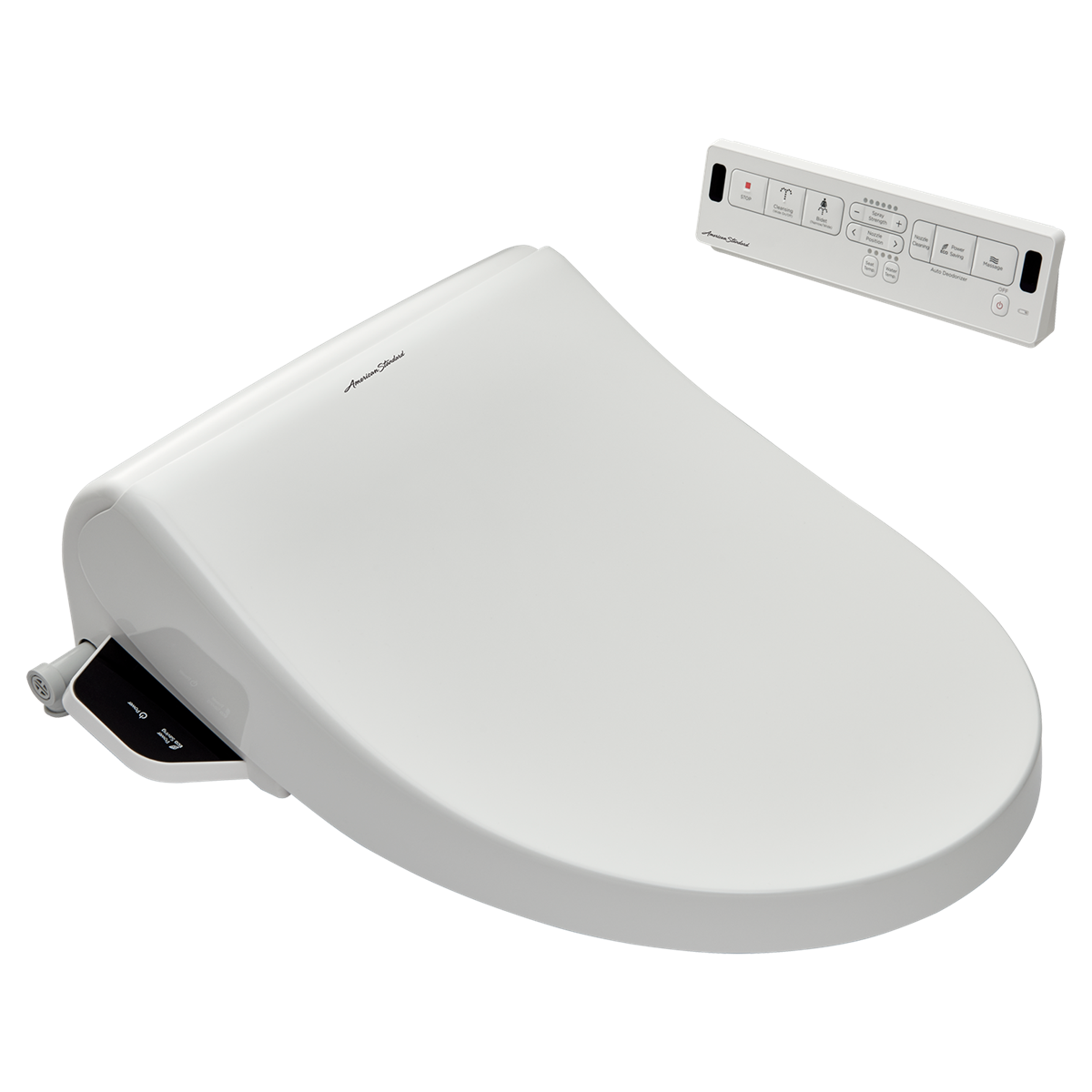 Brondell Swash 1400                                                         American Standard AC 2.0 SpaLet
| | | |
| --- | --- | --- |
| Features | Brondell Swash 1400 | American Standard AC 2.0 SpaLet |
| Average Life Span | 6+ Years | 5+ Years |
| Warranty | 3 year limited warranty, can upgrade to 5 year full warranty | 1 year full warranty, no upgrade options |
| Weight Limit | Supports up to 330 lbs | Supports up to 264 lbs |
| Nozzle Design | Dual stainless steel nozzles | Dual plastic nozzles |
| Adjustable Nozzles | Yes | No |
| Nozzle Sterilization | Yes | No |
| Water Heater | Instant water heater with unlimited warm water | Tank water heater |
| Wide Spray | Yes | No |
| Pulse Wash | No | Yes |
| Nozzle Oscillation | Yes | No |
| Warm Air Dryer | Yes | No |
| Sittable Lid | Yes | No |
| One Button Wash and Dry | Yes | No |
| LED Night Light | Yes | No |
| User Presets | Yes | No |
| Remote Controls | Intuitive wall mount remote | Sleek wall mount remote |
| Color Options | White or Biscuit | White |
| Seat Options | Elongated or Round | Elongated |
Detailed Comparison of the Brondell Swash 1400 and American Standard Advanced Clean AC 2.0 SpaLet Bidet Seats
If you are looking to take your bathroom the the next level of comfort and convenience, you have probably come across bidet seats by Brondell and American Standard. In this comparison, we go through the details and differences between the popular Brondell Swash 1400 and the new to the market American Standard AC 2.0 SpaLet.
Design
When it comes to versatility, the Swash 1400 offers a couple of different design options to accommodate a variety of needs. This seat is available in two different colors, a classic white as well as a nice off-white biscuit color. Additionally, the Swash 1400 can be purchased for both elongated and round toilet styles. In contrast, the AC 2.0 comes in a standard white color and is only available for elongated toilets.
Sittable Lid
The sittable lid is a very desirable option to have on your bidet seat, however, it's something you won't find on most seats. Most bidet units house its delicate electronics in the back of the seat. Because of this, most lids simply cannot hold the weight of an adult human without breaking. The Swash 1400 has taken things in a different direction and included a lid that can be sat upon. Supporting up to 270 lbs, the Swash 1400 sittable lid is convenient for most, but could also be a necessity for those with certain handicaps or disabilities. If you or a loved one has trouble getting around the bathroom, or if your bathroom is configured in such a way where one must sit on the lid to help someone bathe, the Swash 1400 is a definitely a great seat to consider.
Water Heater
One big difference between these two models is the way that water is heated for the wash cycles. The AC 2.0 includes a tank style water heater that can provide up to 60 seconds of warm water at a time. On the other hand, the Swash 1400 has a more desirable instant water heater that offers unlimited warm water. The instant water heater is a nice option to have if you don't want to worry about hurrying through your cleansing cycle, or if you have a lot of people in your household that will be using the seat.
Wash & Dry
Nozzle Design
While both the Swash 1400 and AC 2.0 come with a dual nozzle design, they differ in material. The AC 2.0 nozzles are made of plastic, and the Swash 1400 nozzles are made out of stainless steel. Stainless steel is considered a superior and more hygienic material for bidet seat nozzles since it naturally repels germs and bacteria. Overall, stainless steel also creates a more durable and long lasting product.
Also worth noting, the Swash 1400 nozzle is considered one of the most adjustable nozzles on the market and impressively, can be moved to seven different positions. With all these options, you can easily customize your wash experience and find what works best for your body. Furthermore, the Swash 1400 nozzle also offers a soothing oscillation function, whereas the AC 2.0 does not.
Wide Spray
This is a nice feature to have if you feel you may benefit from additional coverage from the water spray. The wide spray is great for those with incontinence issues. The Brondell Swash 1400 comes equipped with this feature, while the A.C. 2.0 does not.
Pulse Wash
Pule wash, offered by the A.C. 2.0, is a soothing wash option that sprays water in an alternating pattern. This can be beneficial for those with extra tenderness or sensitivity.
Warm Air Dryer
This feature is one of the defining and most important differences to consider between these seats. The Swash 1400 includes a high quality adjustable temperature warm air dryer, while the AC 2.0 does not. the air dryer is a must have option for those with disabilities, injuries, coordination issues, and problems with dexterity. If you have trouble wiping due to a certain condition, using toilet paper will only exaggerate your struggles and could even lead to further health issues. Even if you do not have any special needs the warm air dryer allows you adopt a more environmentally friendly lifestyle by helping you eliminate the use of irritating toilet paper. Because of the convenience it adds, the warm dryer will certainly add peace of mind for a wide range of individuals.
Other Details
One Button Wash & Dry
Those looking for the convenience and ease of an automatic wash and dry at the touch of a button will love the one button wash & dry that the Swash 1400 offers. This feature allows you to skip over the programming and multiple options for a simple wash and dry option. The one button wash & dry is also known to be a must have feature for those of a elderly age who will be using the seat and may be intimidated by numerous programming options.
LED Night Light
Looking for added convenience for those night time bathroom trips? You will love the Swash 1400's integrated LED night light. This feature lights up the toilet bowl with a soft blue glow so that you can avoid turning on a harsh light. The AC 2.0 does not include a night light.
User Presets
If you will be sharing your bidet with another household member, this is a feature you will definitely enjoy having. The user presets function allows you to pre-program your favorite options so that you don't have to reconfigure your personal settings with every use. The Swash 1400 lets you program settings for up to two users via the remote control.
Remote Controls
The Swash 1400 comes with a standard size remote that is very easy to operate. It's buttons feature LED indicator lights for showing your chosen options and it can also be mounted to the wall for convenience and accessibility. On the other hand, the AC 2.0 has a horizontal, wall-mount, panel style control system with icons displaying the unit's functions.
Final Thoughts
Throughout this comparison, you can see that the Brondell Swash 1400 offers quite a few more features than the American Standard A.C 2.0. Especially considering that they come in at a similar price point. The AC 2.0 has a great modern look and will provide a nice wash experience, but falls a little short of other units in its class. With all the Swash 1400 offers, like the warm air dryer, sittable lid, LED night light, user presets and more, you really get the most for your money. All in all, it's easy to see why the Swash 1400 is consistently a best seller and a wonderful option for turning your bathroom into a luxurious, spa-like experience.