Detailed Bidet Toilet Seat Comparison: Blooming Bidet R1063 VS Bio Bidet A8 Serenity Advanced
View These Seats
| | | |
| --- | --- | --- |
| Features | Blooming Bidet R1063 | Bio Bidet A8 |
| Look & Feel | | |
| | | |
| Weight Limit | Up to 300 lbs | Up to 400 lbs |
| Warranty | 3 year full warranty, no upgrades | 3 year full warranty, option to upgrade to 6 year full warranty |
| Nozzle Material | Aluminum | Stainless steel |
| Wide Spray | No | Yes |
| Warm Air Dryer | Yes | Yes with turbo dry option |
| Adjustable Aeration | No | Yes |
| Deodorizer | No | Yes |
| Child Mode | No | Yes |
| User Presets | No | Yes |
| Seat Options | Round and Elongated | Elongated |
| Remote/Control Options | 2 remote styles – standard and large panel. | Wireless, dual-sided remote |
Detailed Comparison of the Blooming Bidet R1063 and Bio Bidet A8 Bidet Toilet Seats
Crafted with high quality materials and equipped with great features and wash settings, the Blooming Bidet R1063 and Bio Bidet A8 will add luxury, comfort and convenience to your bathroom routine. In this review, we'll explain the various differences between these bidet seats to help you choose the best option for your household.
Look & Feel
Both of these seat models are designed to add elegance and luxury to your bathroom. If you tend to favor modern design elements, you will love the sleek, smooth lines and soft curves of the Bio Bidet A8. Alternatively, if you prefer a more classic design aesthetic, the Blooming R1063 lid has a classy and appealing beveled edge. Regardless of your style preferences, either seat will significantly upgrade your bathroom. For those who want to hide away hoses and cords for a cleaner look, the A8 also comes equipped with hose clips so you can keep everything neatly tucked away.
If you happen to have a round toilet seat, the Blooming R1063 is offered in both round and elongated sizes. On the other hand, the Bio Bidet A8 is only available in elongated. It is also worth noting that the R1063 is one of the more versatile seats on the market today and can even accommodate difficult to fit French curve toilet seat models like the the Kohler Rialto, San Raphael and Rosario.
Wash Features
Nozzles
The Bio Bidet A8 and Blooming R1063 both come equipped with a single 2-in-1 nozzle that can perform various high quality wash options. Each nozzle has a 2 spouts with one dedicated to the front/feminine wash and one for the rear wash. Additionally, these nozzles are self cleaning for extra sanitation.
The major difference between the nozzle on the Bio Bidet A8 and the one used on the Blooming R1063 is the material from which they're constructed. The A8's stainless steel nozzle is considered superior to the R1063's aluminum nozzle due to the hygienic and bacteria resisting properties of stainless steel.
Wide Spray
The wide spray function is an especially nice option offered by the Bio Bidet A8. This feature provides extra water coverage that can speed up the wash process, getting you clean and on your way a bit faster. The Blooming R1063 does not offer a wide spray option.
Aeration
Aeration, which is a standard feature for bidet seats on the market today, is a process by which air bubbles are infused into the water stream. Most bidet seats, including the Blooming R1063, have permanently aerated streams. However, the Bio Bidet A8 gives users the unique option of switching the aeration on and off. Aeration creates a stronger, more pressurized water stream, so those who suffer from extra sensitivity, hemorrhoids, or even those recovering from certain surgeries may prefer the weaker stream generated by turning the aeration off.
Comfort & Convenience
Warm Air Dryer
While both of these seats have an adjustable warm air dryer, the Bio Bidet A8 takes this feature a step further by offering customizable temperature and power. With the A8, you can choose between the standard dryer setting or the powerful turbo option for an even faster dry, along with five different temperature options.
Child Mode
If you have a child in your household that might also benefit from using a bidet seat, the Bio Bidet A8 offers a child mode function. When operating on this setting, the A8 produces a gentler wash and dry cycle that is more appropriate for a young person.
User Presets
This is a great feature if you will be sharing your bidet seat with a spouse or household member. For convenience, the user preset function allows you to program and your specific wash settings so you don't have to reconfigure the seat with every use. In this case, the Bio Bidet A8 allows you to program up to two user presets. The Blooming R1063 does not offer this feature.
Deodorizer
The Bio Bidet A8 comes equipped with a high quality deodorizer that helps combat smelly bathroom odors. This automatic function pulls air through a filter and neutralizes any foul odors, leaving your bathroom smelling fresh and pleasant. The Blooming R1063 does not offer a deodorizer.
Other Features
Remote and Control Options
A unique option offered by the Blooming R1063 is the ability to choose your style of remote. One version available is a small, standard size remote with flat button functionality and a screen for choosing options. The other option is a large, panel style remote. Because of its size and layout, the large style remote is a great, easy to use option for those with disabilities or dexterity issues. On the other hand, the Bio Bidet A8 comes equipped with a sleek and intuitive, wall mountable, dual sided remote. The front side of the A8 remote features the more basic seat functions, while the back side features a screen for choosing some of the more advanced options
R1063 Remote Options: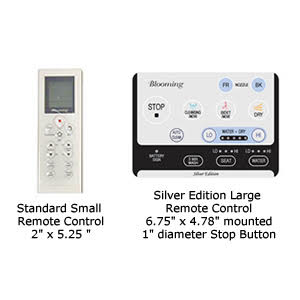 Warranty
Both Bio Bidet and Blooming Bidet provide great, 3 year full warranties to cover their seats. However, for the A8 Serenity, Bio Bidet takes its coverage a step further by offering an optional upgrade to a 6 year full warranty. If you prefer to have the additional peace of mind of an extended warranty, Bio Bidet is a great company to work with.
Final Thoughts
The Bio Bidet A8 offers a few more features than the Blooming R1063 such as a deodorizer, wide spray, user presets and child mode. However, if you are trying to fit a French curve toilet seat, or if you would benefit from the large style remote, the Blooming R1063 may be the better fit for you. Ultimately, it comes down to the needs of your household and which features are most important to you and your family.
Additional Details
Model Numbers (SKUs)
Blooming Bidet R1063 Model Numbers:
Blooming Bidet R1063 – White – Elongated: NB-R1063-EW

Blooming Bidet R1063 – White – Round: NB-R1063-RW
View These Seats
Back to Compare Listings
Bio Bidet A8 Serenity Bidet Seat Comparison Listings
Blooming R1063 Bidet Seat Comparison Listings
Want to see videos on bidets? Check our YouTube page: https://www.youtube.com/channel/UCGFgiGtj6beO3RNHykoZafA