WASHLET vs Bidet: Top 4 Considerations
Spend any time researching bidets and you'll come across all different kinds: bidet seats, bidet attachments, WASHLETS, bidet toilets, traditional bidets…the options can seem endless! Customers often ask us to weigh in on which is best, a WASHLET or a bidet. We designed this post to help settle the great WASHLET vs bidet debate so that you can feel confident choosing between them!
What is a WASHLET?
In 1980, TOTO released a toilet seat with built-in bidet functions, which they trademarked the "WASHLET". Since then, TOTO has sold over 50,00,000 WASHLETs. These units are known around the world for their high quality design, long lasting construction, and luxurious features.
Other companies soon began manufacturing their own version of the WASHLET. These products go by "bidet seat", "bidet toilet seat" or "shower toilet seat". People often use "WASHLET" as a general term for bidet seats, but it is a trademarked term, so we only use it to describe TOTO bidet seats.
All bidet seats, including WASHLETs, have a thin rod with one to three spouts at the end. The spouts, called nozzles, spray water towards your private areas. In between uses, the rod stays inside a compartment to prevent it from getting dirty or damaged.
What is a Bidet?
"Bidet" is often used to describe any type of product that cleans the bottom with water. However, "bidet" traditionally refers to a miniature sink located next to the toilet that is used to rinse off the rear. After going to the bathroom, users shift onto the bidet and either channel water from the spout onto their bottom or fill the basin and soak until clean.
If you've never seen one of these bathroom fixtures, you're not alone! Traditional bidets are usually found in Europe and Asia, so they're an unfamiliar sight to most North Americans. However, there are many other kinds of bidets that are more popular in the United States and Canada. These include portable bidets, bidet sprayers, bidet attachments, WASHLET+ Systems, and integrated bidet toilets. To read all about the types of bidets, check our article Different Kinds of Bidets!
WASHLET vs Bidet, Which is Better?
Bidet seats, including WASHLETs, are far more popular with our customers than traditional bidets. The reasons are simple: bidet seats take up less room, offer more features, and are easier to install than a traditional bidet. Bidet seats also come in a wide range of price points, so it's easy to find one that matches your budget. Below, we break down each of these key considerations.
1. Features
Bidet seats come in non-electric and electric versions. Non-electric bidet seats offer a basic cleanse and are powered by your home's water pressure. Some non-electric bidet seats connect to your bathroom's hot water line for warm water cleansing, but most provide cold water washing only.
Electric bidet seats require a GFCI outlet offer a wide range of features designed to provide an ultra comfortable and convenient experience. Every electric bidet seat offers a different set of features, but examples include a heated seat, a water heater, nozzle oscillation, pulse (massage) spray, warm air drying, an air deodorizer, nozzle sterilization, user presets, auto opening lid and fully adjustable water temperature, pressure and nozzle position.
All of TOTO's WASHLET bidet seats are electric. In general, WASHLETs are premium units with high end features. Even the "entry level" WASHLETs have more luxury features than the average bidet seat. WASHLETs are pricier than comparable bidet seats, but many customers feel that the quality construction, design and features are worth the extra cost.
2. Space
Like all bidet seats, a WASHLET replaces your existing toilet seat. Although bidet seats are a bit bulkier than regular toilet seats, they don't require any extra floor space. In comparison, a traditional bidet is a standalone feature, so it takes up about as much room as a regular toilet.
The average stand alone bidet is between 14-16″ wide and 24-28″ deep. Before you purchase one, you'll want to know the unit's exact dimensions as well as the International Plumbing Code's standards. IPC guidelines require:
At least 15″ from the center of the bidet to any wall, partition or vanity
A minimum of 30″ from the center of the bidet to the center of any adjacent fixtures, such as a toilet
No less than 21″ from the front of the bidet to any wall, fixture or door
3. Installation
Bidet seats are a snap to install! Most people can install one themselves in less than an hour, and you usually don't need special tools or plumbing experience. We've got lots of resources to guide you, but you can always hire a plumber if DIY projects aren't your cup of tea.
Adding a traditional bidet to your bathroom is a labor intensive process. Your bathroom plumbing may need to be reconfigured along with various other renovations. Unless you've got plenty of experience with bathroom remodels, we recommend hiring a professional to do the install!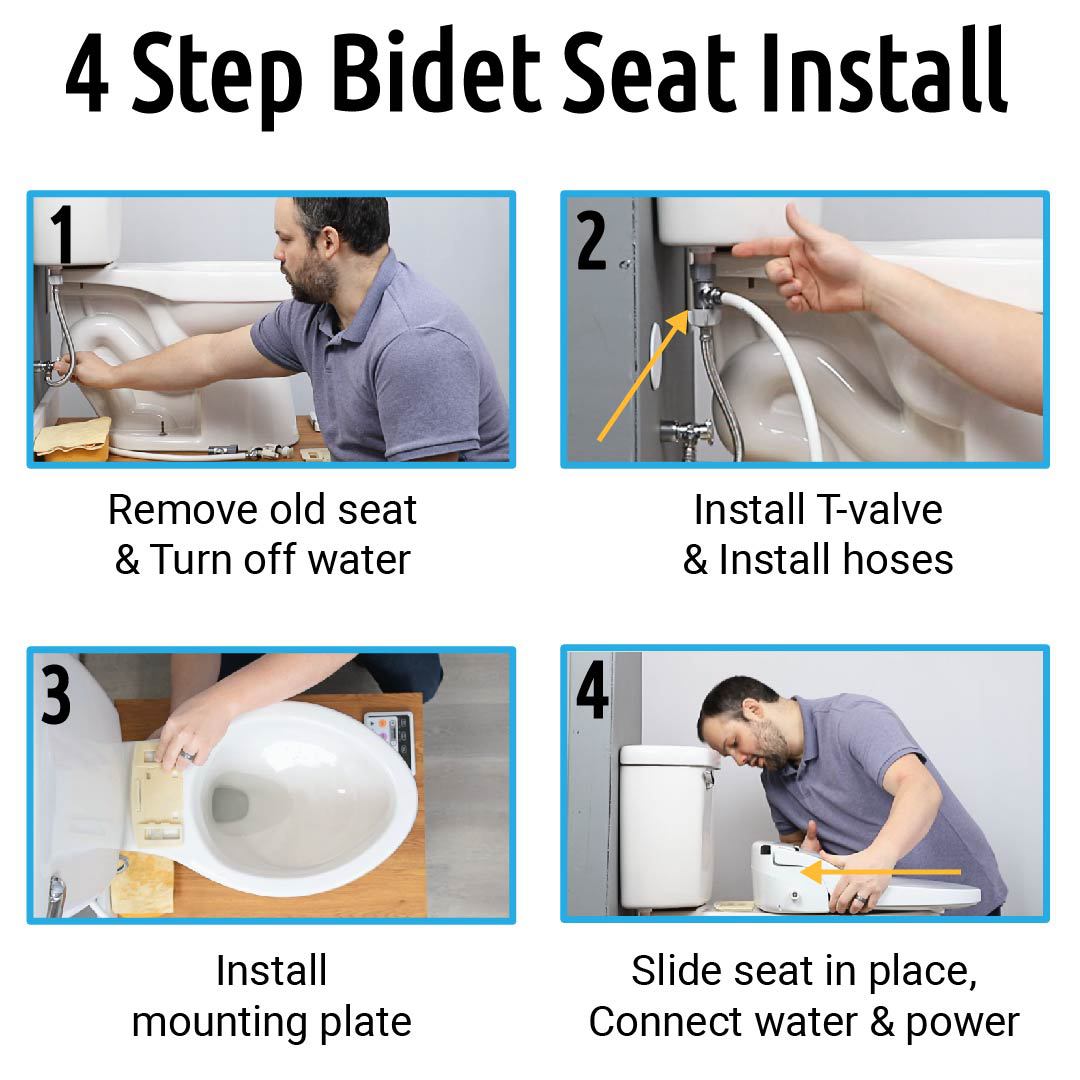 4. Costs
Most bidet seats cost between $100 and $1360. The exact price depends on whether you're buying non-electric or electric bidet seats, and which features you want. TOTO WASHLETs are some of the nicest bidet seats on the market and run between $350 and $1360.
The traditional bidets we sell are crafted from high quality porcelain and cost anywhere from $630-1450. The faucet hardware is sold separately and range from $200-550. Unless you're replacing an existing bidet, you'll also want to factor in the cost of installation, including any bathroom remodeling that's needed.
| Type | Total Cost (not including install) |
| --- | --- |
| Non Electric Bidet Seat | $100-$180 |
| Electric Bidet Seat | $250-1360 |
| Traditional Bidet (including faucet, sold separately) | $830-2000 |
*Prices are approximate based on inventory at the time of publication and do not reflect sales or discounts
Choosing Between a WASHLET and a Bidet
Here at Many Bidets, we prefer electric bidet seats, like TOTO WASHLETs, over traditional bidets. We feel that the comfort, convenience and sleek style these units provide is well worth the price. Plus, they're much easier to use and install than a traditional bidet. If you're thinking about replacing your current toilet, bidet toilets or TOTO WASHLET+ Systems are great options too. On the other hand, if you are remodeling your bathroom, prefer the look and feel of a bidet that's separate from the toilet, and want simple cleansing action, a classic bidet fits the bill.
There's a lot to consider when buying a bidet, and we know it can get a little overwhelming! If you'd like a personalized recommendation or simply have questions we haven't answered here, we invite you to reach out to one of our bidet experts! Here are the best ways to connect with us: